Church House Conference Centre, one of London's most versatile conference and event venues, has strengthened its business development and marketing teams with two new appointments.
Fiona Wynn, a graduate of Sheffield Hallam University, has joined the central London venue as Business Development Administrator.
"Working at Church House provides me with an amazing opportunity to learn about the industry from experienced team members in a great venue," Wynn commented. "My role has been designed so [that] I can support both the business development and marketing departments, which means that I will be able to get stuck in on a variety of tasks and increase my skill set."
Chloe Alfred, who has a Masters in Theatre & Performance from Queen Mary University and previously worked as a Marketing Assistant for The Barbican Centre, brings experience and creativity to her new role.
"The events industry is extremely exciting and Church House is a truly unique venue, offering such a large scope for creative marketing campaigns," said Alfred. "I am looking forward to promoting the venue to both new and existing audiences and am thrilled to join such a passionate team of people."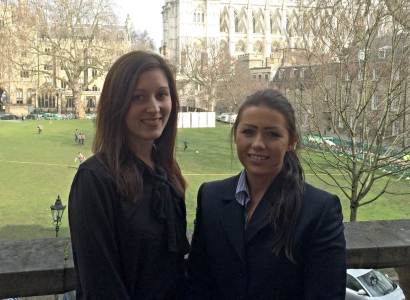 Robin Parker, General Manager of Church House Conference Centre, commented that the new appointments were part of an internal reorganization at the venue.
"Following a restructure of the sales and marketing team, it is great to welcome Chloe and Fiona on board. As we look to capitalize on Church House's growth in sales, I am really looking forward to working with their new ideas and fresh outlook on all things sales and marketing to ensure we maintain this trend," Parker added.
For more information, visit churchhouseconf.co.uk