CORT Business Services, a Berkshire Hathaway company, announced the grand opening of its new dual location, which showcases both a furniture rental showroom and a furniture clearance center.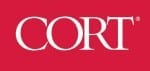 Just around the corner from company headquarters, the new building is operating under the name CORT Furniture Rental and Sales in Chantilly, Va.
The 5,053 square-foot showroom has been designed for the average consumer, featuring a modern, open floor plan that has a large, cutting-edge conference area with innovative technology available for CORT's customers and business partners for training sessions and meetings.
"We have so many new products to showcase for both our furniture rental and our clearance center customers that it was time to expand our space and update our shopping experience," said Ann Sennewald, vice president of merchandising, CORT. "From the moment our customers walk through the door, they will be greeted with an open, contemporary setting that showcases our furniture, upholstery, lighting, accent pieces and housewares."
Located only half a mile from the previous showroom, the new location offers inspiration to customers looking for ideas to enhance their home and work furnishings. Customers interested in furniture rentals for their home can choose from a range of styles including CORT's Signature Collection that draws on the power of color in its design pallet. CORT's new Staks collection offers flexible workspace configurations and a wide range of collaborative pieces to fit every workplace environment.
See related article: CORT tradeshow coordinator promoted to new role