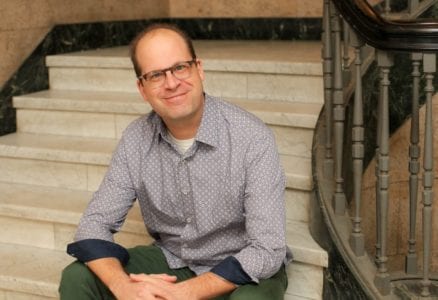 Live Marketing, a leading trade show and event creative agency and WBENC-certified woman-owned business, has added agency veteran Tim Sheridan (pictured right) as creative director and senior writer. Based in the company's Chicago-area headquarters, Sheridan will direct and oversee the strategic and creative development of integrated trade show and experiential programs, including digital and social media, interactive games, videos, scripts, and promotional materials.
Sheridan was most recently head of digital and social creative at the experiential shop Henry Agency, a division of the Cárdenas Marketing Network. His extensive agency experience includes developing award-winning integrated campaigns for Toyota, HP, ADT, Post Cereals, Purina, Capri Sun and Lunchables.
Sheridan has presented at SXSW Interactive and served as head writer for Steven Tyler of Aerosmith, writing speeches and tour press notes. A former instructor for the Chicago Portfolio School on storytelling and user experience theory, he is also the author and creative director of the children's book with music, Thunder & Lighting: A Story for a Stormy Night.
"Tim's strategic vision, creativity and passion embody Live Marketing's mission to create engaging trade show and event experiences and dramatic results," says Anne Trompeter, principal and executive creative strategist at Live Marketing. "With his deep experience across a variety of industries, plus a playful sense of humor, Tim adds great energy to any trade show or event program."
Live Marketing is a full service creative and digital agency that develops and delivers strategic trade show and event experiences that engage audiences. For 40 years, Live Marketing has produced engagement strategies that create consistent and dramatic trade show and event results that keep our clients—from start ups to flagship brands—coming back for more. For more info, visit www.livemarketing.com.