by Jeanne Brei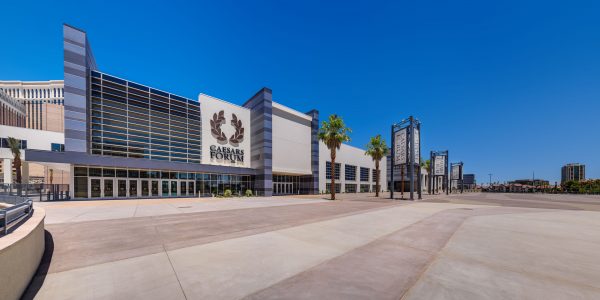 If you haven't been to Las Vegas lately, it's been hard at work reinventing itself again. And this time, thanks to indoor mask mandates, outdoor space is all the rage. Choices range from a  7,000 sq.ft. rooftop terrace at the new Expo at World Market Center Las Vegas in downtown to the 14,000 sq.ft. outdoor terrace on the third floor of the LVCC to the expansive 107,000-sq.ft. outdoor Forum Plaza (pictured left) on 29 acres at CAESARS FORUM in the shadow of the Linq Observation Wheel to the 20,000-sq.ft. pavilion and 20,000-sq.ft. lawn at the new Wynn Conference Center with meeting rooms facing the 17th and 18th holes of the golf course and patio—including a view of a 100-ft.-wide,10-ft.-tall waterfall.
The new LVCC West Hall's outdoor terrace (top picture, above) is completely covered from the hot Las Vegas sun and is able to accommodate receptions with up to 2,000 attendees in the Grand Atrium with a terrific view of the Las Vegas Strip. Next door, the new Bagelmania also has outdoor patio seating for 44.
The SkyView rooftop terrace downtown at the World Market Center Expo (pictured left) has glassed-in walls and festoon lighting for al fresco lunching, cocktails or dining for up to 750 theatre-style. SkyView Terrace can also be combined with their WorldView room on the 16th floor for more guests. In addition, they also have a 50,000 sq.ft. outdoor Grand Plaza that's part of a total of 190,000 sq.ft. of combined surface lots/space for transportation staging, event parking or as an open-air event venue.
The newly renamed Venetian Expo (formerly the Sands Expo) has prime outdoor space as well—in the form of 16 different pool areas. A recently remodeled pool area (pictured right) at the Venetian was used by MPI for their closing night function while Cvent used the Drai's Beach Club rooftop pools and nightclubs at the Cromwell for their closing night function.
Speaking of gorgeous new outdoor spaces, Allegiant Stadium, home of the Las Vegas Raiders is equipped with more than 10 different event spaces and can host groups from 25 people to a 65,000-person venue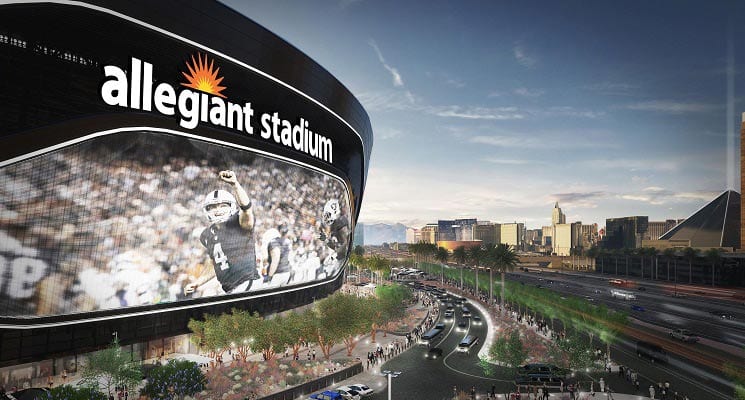 buy-out. Cvent threw an outdoor party on the 95,000 sq.ft. field—which has a capacity of 3,500. And in downtown Summerlin, the Las Vegas Ballpark, is the home field for the Triple-A West league Las Vegas Aviators. In 2019, they had 47 sellouts and 23 crowds of 10,000+. It has a wide range of seating options including 22 suites, club seats, berm seating, party zones and decks, picnic tables, kids' zone, bars and a pool beyond the outfield wall. And Area 15's outdoor spaces are as stunning as the indoor spaces. "The Grounds" spans more than four acres and will host festivals, carnivals, conventions, concerts, and other large-scale events for up to 20,000 people. It's located next to Area 15's A-Lot, a 32,000-square foot outdoor space surrounded by large-scale art installations with a desert-festival vibe that hosted an outdoor Winter Wonderland complete with Santa last year.
This story originally appeared in the Sept./Oct. 2021 issue of Exhibit City News, p. 44. For original layout, visit https://issuu.com/exhibitcitynews/docs/ecn_sept-oct_2021