Massachusetts' convention economic impact and the planned reopening of the state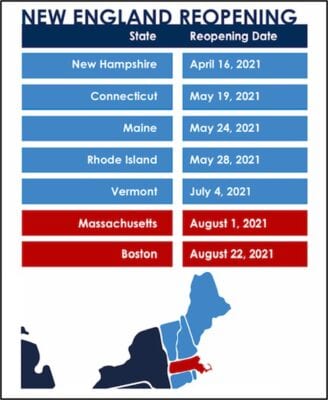 On April 27, Gov. Baker of Mass., announced the planned reopening timeline for the state. Based on this guideline (and it could be sooner, or possibly even later), Massachusetts will be the last state in New England to fully re-open, and will be one of the last, if not the last state in the entire country to reopen.
In terms of convention business, Massachusetts is not as busy as states like California, Florida or Illinois. But the economic impact to the state is still significant! The Mass. Office of Travel and Tourism stated that travelers to the state in 2018, spent more than $24 billion, two-thirds of which was business related.
According to a report from the Massachusetts Convention Center Authority, during the fiscal year of 2019, there were 780,000 convention attendees at the BCEC and the Hynes who:
Created an economic impact of $870 million
Generated $42 million in tax receipts
Supported 5,200 jobs
This is not all the convention business in the state; only the business at the two largest venues. Prior to the pandemic, it was expected that 2020 would be a busier year than 2019, so the 2020 numbers should show an even greater impact/loss. On top of that, business lost to pandemic closures is extending beyond 12 months. Any way the numbers are computed, the amount of lost business is significant.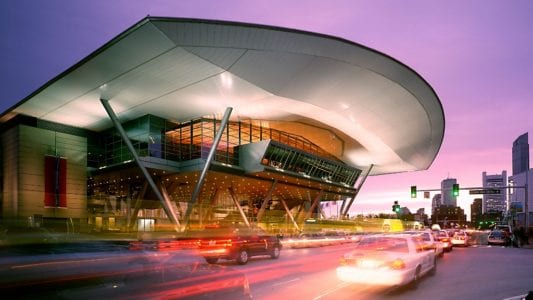 The lack of convention business does not only impact convention workers. It also impacts the entire spectrum of hospitality businesses, including hotels, restaurants, bars, entertainment and travel (both to and from Mass., as well as within a given city). And, anytime a tradeshow is canceled or postponed, business is not only lost in the present, but may also be lost in the future.
On April 28, Mayor de Blasio of New York City announced that NYC would reopen 100 percent starting July 1. The following day, on April 29, Gov.  Baker announced that "Massachusetts is the first state in the country where two-thirds of adults have had at least one (vaccine) shot." It begs the question, why can't Massachusetts open sooner?
As more people become vaccinated, and as the weather turns warmer, the question must be asked: is the cure of lockdowns and delayed re-openings worse than the disease itself?

Bob McGlincy is director, business management at Willwork Global Event Services. Willwork creates engaging, energized, and exceptional event experiences. He can be contacted at Bob.McGlincy@willwork.com