by Jeanne Brei, Photos Credit: Exposures, Inc.
Oldcastle APG, a CRH company and North America's largest building materials company, wanted a booth that was "exciting" to feature their market-leading concrete and mortar brands including Sakrete and Amerimix at the World of Concrete, the commercial construction industry's largest annual international event for concrete professionals. Sakrete, founded in 1936, is North America's original dry concrete mix brand and a leader in concrete and other building products, and this year marks the second time the award-winning booth has been shown at World of Concrete.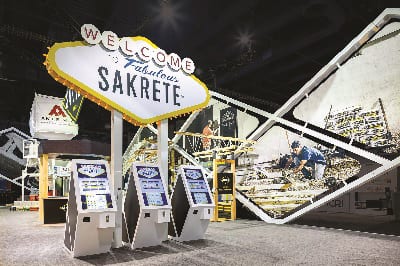 Gretchen Turner, Oldcastle APG tradeshow manager, says, "We wanted a booth that was exciting to bring people in, but upper management didn't want gimmicky and that's a fine line." Dave Jackson, senior brand manager, masonry + dry goods at Oldcastle APG, adds, "We thought we could play off of the fact that it was in Las Vegas. You can get away with some stuff in Vegas you can't do somewhere else."
So they turned to Blue Sky Exhibits, whom they have worked with for three years. Tim Kelley, owner/COO of Blue Sky Exhibits, is also an AE for Oldcastle and the creative director, and specializes in face-to-face marketing and creating successful environments. As he explains, "We are about engaging to create the emotional connection. Gretchen and Dave are amazing collaborators. We listened carefully and brought their vision to life. They wanted to do something different. They wanted to up the ante and create intrigue and excitement…we wanted to create an environment that was intriguing yet open and inviting. This was a really fun and one of the most challenging projects we've ever done. Kudos to Gretchen and Dave and Oldcastle APG and the Sakrete team. Nine out of ten times, when we design something that is really unique, they [clients] back out, but Gretchen and Dave had the foresight and vision to take a chance.  They did something no one had ever done and it's been so exciting working with them on this project."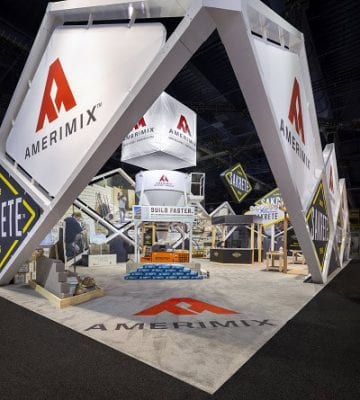 Kelley explains, "Our design was of a structure that played off of the diamond shape of the Sakrete logo—we used scrims, a truss, we stretched SEG fabric over a gigantic metal structure where some elements are industrial yet many have a very ultra-modern look. Marrying a modern look with a rustic, industrial look from work sites using raw wood, corrugated metal, hardware, etc. and the end result was really different and shook things up. We created 20-foot wide logos where you could still see the action happening inside and we created two very large and dynamic entry points so it was still fairly open yet still very intriguing," adding, "It was a challenge–walling off sections with small peek-ins from some openings to create intrigue
and excitement."
Kelley continues, "The structure was a beast. It was made in-house of extruded aluminum; we brought these 25-foot massive walls, 90-ft. long and assembled them in-house. It was a miracle to get it up and standing—an engineering feat. Two long walls are a single panoramic image 90-feet long and 20 feet high, and we printed it at scale. We had cantilevered entrances so people would be intrigued enough to come in. Once in, we had digital slot machines and they were great—something fun that incentivized discussions with booth staff. For each conversation they had with booth staff, they would get a token to use at the slot machines—it was an exciting and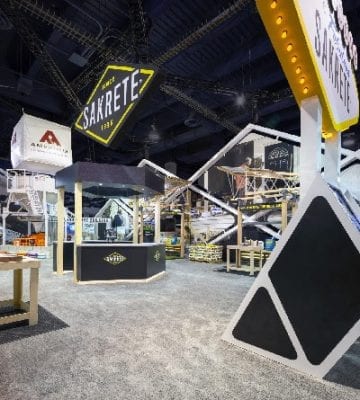 interactive way to get their swag. We used a third-party converted mechanical to USB design that used coding probabilities with very tightly controlled odds, so we knew how many prizes would be given away. We had eight different prizes with an aggressive win rate. The grand prize was an electric paddle mixer but we also had work gloves, T-shirts, hoodies, beanies, etc., and they received an additional token for play if they downloaded the Sakrete app at the booth."
Oldcastle APG tradeshow manager Turner says, "The booth was everything we asked for–it was a big success and always busy. People really enjoyed doing the circuit and talking to each rep to get their tokens and play the slots for their swag. Nearly everyone won something and the booth was exciting without being gimmicky."
By the Numbers:
Booth Footprint: 40 x 90
Install: six men and two supervisors for five days
Height: 20-ft.
Each diamond shaped logo/graphic: 19-ft. wide.
Total of 16 fabric diamonds.
Entrance Cantilever: 14-ft. high.
Credit List:
Designed and built by Blue Sky Exhibits: Tim Kelley – Owner/COO, Blue Sky Exhibits, AE for Oldcastle APG & creative director & Kim Cramer – senior account manager
Lead Designer: Diego Fernandez
Support Design: Janet Bartczak (the interior demo pods)
Production Manager: Roger Reyelts
Client Team: Gretchen Turner, tradeshow manager & Dave Jackson, senior brand manager, masonry + dry goods, Oldcastle APG
Account/Project Management: Roger Reyelts, Holly Robbins, Kim Cramer
Production/Engineering: Derek Sheffield
Exhibit Construction: Paul Watson, Robert Scott, Steve Pitts
Graphics Production: Nicholas Peterson
Photography: Exposures Ltd. (exhibit photography) and Debonair Films (large fabric graphics on the
interior diamonds)
Exhibit I&D: Roger Reyelts, Robert Scott, Mark Mleczko, Richard Wienecke
This story originally appeared in the March/April 2020 issue of Exhibit City News, p. 46. For original layout, visit https://issuu.com/exhibitcitynews/docs/exhibitcitynews_marapr_digital_2020