Cover Stories and Top Headlines from 2011
This year has been quite the rollercoaster for the tradeshow industry. From the upswing in business, the growth of companies all over the world, the settling of legal disputes and the introduction of several new trends, the 2011 show floor was obviously the place to be.

January
2011 CES numbers bode well for exhibit industry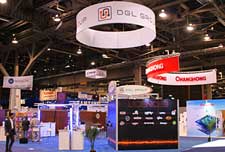 Although attendance was strong at the 2010 Consumer Electronics Show compared to its 2008 and 2009 editions, exhibitor participation was still contracting. Managers of the annual Las Vegas technology extravaganza were optimistic, however, saying now that attendees were back in 2010, the exhibitors would follow in 2011. They were right.
Q&A: Freeman CEO shares his views of the industry
A personal look at exhibiting in India
Separate not-for-profit corporation to govern and manage Navy Pier
---
February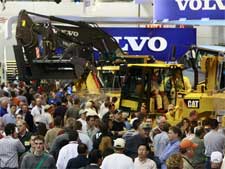 Attendees flock to tradeshows in 2011
The anonymous quote, statistics can be made to prove anything, could easily be applied to the tradeshow industry in the early months of 2011. Could attendance numbers from a few random conventions signal a rebound for the industry? The answer: Either the U.S. population is showing an enhanced interest in poultry, Macintosh computers and textiles, or the tradeshow industry is off to an excellent start in 2011.
Meetings contribute $106 billion to U.S. economy
Exhibit design education is coming of age
MG Design's West Coast growth calls for larger office
---
March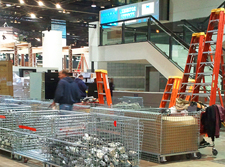 Freeman provides electrical for housewares show at McCormick Place
The 2011 International Home + Housewares Show, which featured more than 1,900 exhibitors, recently concluded its three-day run at Chicago's McCormick Place on March 8. This show marked the first time an electrical services provider other than the Metropolitan Pier and Exhibition Authority (MPEA) or an in-house contractor has been used at McCormick Place.
Outsourcing your tradeshow program
Mandalay Bay president destined for life in hospitality
Four Companies Share Best of Show Honors at EXHIBITOR2011
---
April

Kings of design crowned at MOD Awards
The 11th Annual MOD Awards once again honored the best of modular exhibit design in front of a packed house at the Four Season Hotel in Mandalay Bay on March 29. Along with a panel of design industry judges, more than 300 exhibit and event industry professionals took part in selecting the winners and presenting each company with a crystal MOD Award.
MPEA appeals District Court ruling to overturn labor reforms
CEIR releases final 2010 Index results
Ten unique venues for corporate events
---
May
Poll finds show attendees frustrated with exhibitors
Tradeshow attendees are frustrated with the lack of follow up at tradeshows, according to a Bartizan Connects LinkedIn poll recently made public. The poll asked, "As a tradeshow attendee, what is your reaction when an exhibitor fails to follow up with you?" Of the 337 respondents, the majority said they were left with negative feelings after an exhibitor failed to follow up with them post show.
Orbus Exhibit & Display Group adds 33 new staff members
How to work with clients who have no budget in mind
Exhibit flooring: Trends, technology and client concerns
---
June
Freeman officially announces acquisition of Champion and George Fern


Freeman, which annually produces more than 3,000 expositions and more than 10,000 other events worldwide, has formally announced the acquisition of Wheelhouse Solutions, the parent company of Champion Exposition Services, George Fern Exposition and Event Services and Immersa Marketing.
Judge denies MPEA appeal on labor reforms lawsuit
Local 631 members ratify agreement with Freeman and GES, Secretary Treasurer John Phillipenas appeals suspension
BOSS Exhibit Awards honor creativity in the tradeshow industry