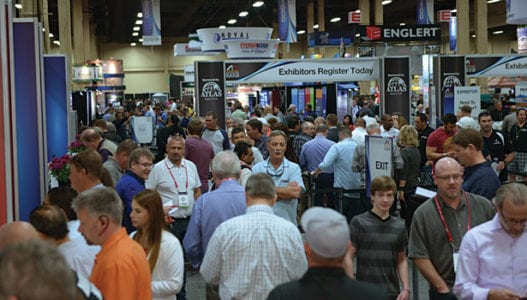 Taking place March 1-3, 2017, at the Mandalay Bay Convention Center in Las Vegas, Nev., the 2017 International Roofing Expo will offer roofing contractors of all sizes and specialties a comprehensive preview of the entire roofing construction and maintenance industry.
At right, a photo from the 2014 IRE at Mandalay Bay Las Vegas.
The IRE is the must-attend event for commercial and residential roofing professionals to stay abreast of market directions, trends and cutting-edge technology. The official show sponsor is NRCA and the official show publication is Roofing Contractor. Formerly owned by NRCA, the show was sold to Hanley Wood Exhibitions in May 2004. Hanley Wood Exhibitions was acquired by Informa Exhibitions U.S. in December 2014.
Informa is one of the world's leading business intelligence, academic publishing, knowledge and events businesses with more than 6,500 employees in over 100 offices across 25 countries. The Dallas Exhibitions team produces a portfolio of 17 trade shows in various sectors of the construction and real estate industry.
Attendees and exhibitors of the 2017 IRE can make housing and travel reservations through the official hotel vendor, IRE Housing, powered by onPeak. Offering hotel, airline and car rental discounts through a variety of companies, IRE Housing offers the biggest savings and most valuable perks.
"We've negotiated travel discounts and secured a limited number of reduced-rate hotel rooms to make your trip to Las Vegas affordable," said Tracy Garcia, CEM, IRE show director. "Attendees and exhibitors are encouraged to reserve their rooms early, as hotels are filling up quickly."
While the Mandalay Bay and the Delano are both sold out, low rates have been negotiated at three other hotels with easy access to the Convention Center via a free tram and indoor walkways:
Luxor Las Vegas
Excalibur Hotel
Four Seasons Las Vegas
"In addition to lower rates, show participants will also receive complimentary high-speed internet access at all properties in the IRE block," said Bill Good, CEO of NRCA, the show's official sponsor. "No deposit is required at time of booking, so make your reservations now."
As the only official housing provider for the IRE, onPeak (formerly known as Travel Planners) is the only company that can sell rooms in the official housing block. Reservations may be made online 24-hours a day, seven days a week, or by calling 855.992.3353 during the hours of 8 am – 5 pm CT, Monday through Friday. To secure the best rates, show participants must book through http://www.onpeak.com/IRE/.
To learn more about Informa, visit www.informaexhibitions.com. For information about the IRE, please visit www.TheRoofingExpo.com or call 972.536.6415 or 800.684.5761.