After 3D Exhibits created an exhibit environment for Hill's Pet Nutrition Inc., this provider of dog and cat foods won an EXHIBITOR Sizzle Award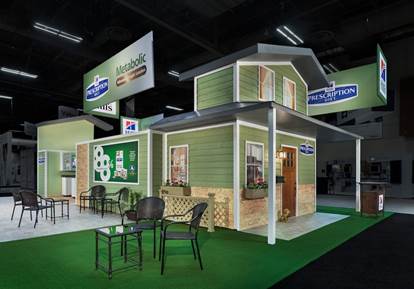 Recognizing the world's hottest tradeshow exhibit promotions, the Sizzle Award Hill won was due to its exhibit marketing program at the Western Veterinary Conference held this past February. 3D Exhibits created a custom booth resembling a suburban home that reinforced Hill's message that Hill's Metabolic Advanced Weight Solution achieved an 88 percent success rate during in-home trials.
The exhibit details and finishes—from green exterior siding to gabled roof—reinforced Hill's message of success at home. It included a porch where visitors waited for entry into the exhibit and were introduced to the message, a living room where they heard a product presentation, and a patio where they sat at café tables, enjoyed refreshments and discussed the product with Hill's team.
Other elements of the program included invitations to a housewarming party, advertisements, sponsorships—and 1,000 branded cupcakes served in just 15 minutes. Per an exit survey, 97 percent of visitors remembered the key message and number—88 percent of pets received in-home weight loss success during product trials.
Privately held 3D Exhibits designs, fabricates and manages exhibits and events. It also delivers supporting data capture, interactive tools, marketing integration and analytics.