ACC Liverpool, a facility that is home to the interconnected BT Convention Centre and Echo Arena, unveiled a fly-through video of its new exhibition center a year ahead of its opening.
The film allows viewers to take a virtual journey through Exhibition Centre Liverpool, bringing the venue to life.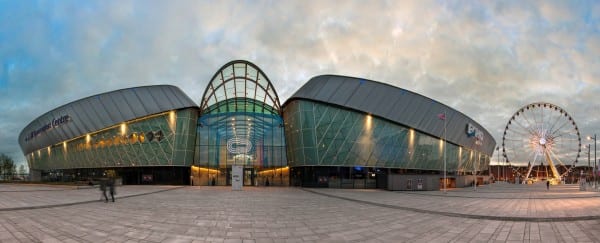 The animated video provides views of the 8,100 square meter exhibition hall in different configurations – from an exhibition to a conference to a standing concert.  The show reel illustrates how the venue can be subdivided into three 2,700 square meter halls.
It shows the glazed atrium, which offers stunning vistas looking out across the River Mersey and the city's UNESCO World Heritage site.
The virtual tour maps out outdoor exhibition space known as The Deck; meeting rooms; catering facilities and the location of the on-site integrated 216-bedroom Pullman hotel.
It also illustrates the bridge link between the £66m center and hotel and the existing ACC Liverpool site.
Viewers are able to see Exhibition Centre Liverpool's location on Liverpool's waterfront and its connectivity to the rest of the country, including its proximity to two international airports, surrounding motorways and national and regional train stations.
The four-minute video was launched at last week's Meetings Show UK and will be used as a sales and marketing tool to communicate the experience and features of Exhibition Centre Liverpool to prospective clients as the project progresses.
The venue will be capable of hosting trade and consumer exhibitions; large national and international conferences with attached exhibitions; large banquets; concerts and sports events on a national and international scale. Concert space will be for up to 10,000 people standing.
In its first year of operation, it is expected to host about 50 events and attract more than 250,000 visitors.
Confirmed trade and consumer exhibitions so far include the Federation of Petroleum Suppliers FPS Expo, MCM Expo group and the Allergy and Free From Show North.  Contracted conferences include RenewableUK.