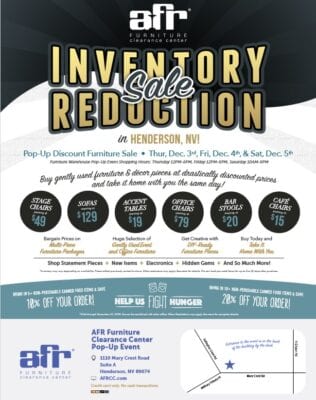 AFR Furniture Rental, a national full-service furniture rental provider, is holding an inventory reduction sale Dec. 3-5 at their Henderson, Nevada, location (a suburb of Las Vegas). The Pop-Up Discount Furniture Sale will be held from noon-6 p.m. on Thursday & Friday, and from 10 a.m.-6 p.m. on Sunday at the AFR Furniture Clearance Center, 1110 Mary Crest Road, Suite A, Henderson, NV 89074.
In addition to bargain prices on multi-piece furniture packages and a huge selection of gently used event and office furniture, they are offering an additional 10 percent off if you bring five non-perishable canned food items and 20 percent off if you bring more than 10 non-perishable canned food items. (Cannot be combined with other offers. Other restrictions may apply. See store for complete details. Valid through December 31, 2020.)
They invite you to shop statement pieces, new items, electronics, hidden gems and to get creative with DIY-ready furnitur­e pieces. including office chairs starting at$79, accent tables starting at $19, stage chairs starting at $49, café chairs starting at $15, bar stools starting at $20 and sofas starting at $129. Inventory may vary depending on availability. Prices reflect previously rented furniture. Other exclusions may apply. See store for details.
They can hold your sold items for up to five days after purchase or you can take it with you. They will be accepting credit card payments only—no cash transactions.
For more info, visit AFRCC.com