When value is the key issue, customers need some kind of reference point to ensure they're getting the most for their money. In today's meetings industry, that value takes many different forms.
Cost is certainly a factor – but that's only the beginning. Even more important are quality and consistency, because these mean you're actually getting what you need in a predictable form. However, so also are creativity and imagination, because these contribute to the overall event experience whose success will determine delegate satisfaction and, therefore, both present and future attendance that is the life blood of most organizations these days.
Today's convention centers are all about balancing these varied criteria; consistent and predictable quality on the one hand and innovation and flexibility on the other. But how's an event organizer to know which centers embrace these kinds of principles?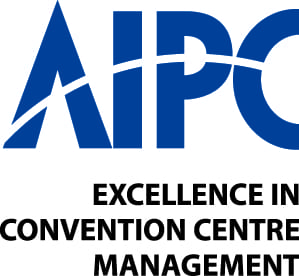 Your first clue: look for the AIPC logo. Membership in AIPC means that a center is committed to the principle of excellence in center management – and has invested in making that commitment through linking up with like-minded venues worldwide. This kind of exchange is absolutely critical, for two reasons:
First, because it is only by being aware of the full spectrum of possibilities that a center can truly excel. Today's meetings and conventions are increasingly complex and demanding affairs, with formats that are evolving on a constant basis. Being able to access the full range of experiences represented in more than 170 centers in 54 countries worldwide provides the kinds of insights that are absolutely critical to understanding what can be done to enhance an event in today's ever-changing environment.
Secondly, AIPC members have access to services, resources and insights that enable them to actually deliver on organizer expectations in a practical, cost-effective and risk-free way. This includes the latest insights into client needs as well as the research, education, technology insights and standards that have to become a part of their product in order to prevail in today's competitive environment.
In today's complex industry, no center can exist in isolation; there's just too much information required to keep up. Yet many have to do just that simply because unlike so many other kinds of businesses, there is generally only one or at most a very few such facilities in any one destination. The solution is in linking up with colleagues from around the world – and the benefit is the extraordinary range of experiences and insights that this can deliver.
AIPC members know this – and use it to full advantage. The result is that they are the ones who are best positioned to deliver the kind of expertise and flexibility demanded by today's major events.
And how do you access all this? From a planner's perspective, it's simple. When you're considering venue alternatives, look for the AIPC logo. It's your best assurance of getting exactly what you need to ensure your events deliver what your delegates want and need – and for your own peace of mind!
AIPC represents a global network of 170 leading centers in 54 countries with the active involvement of more than 900 management-level professionals worldwide. It is committed to encouraging and recognizing excellence in convention center management, based on the diverse experience and expertise of its international representation, and maintains a variety of educational, research, networking and standards programs to achieve this. AIPC also celebrates and promotes the essential role of the international meetings industry in supporting economic, academic and professional development and enhancing global relations amongst highly diverse business and cultural interests.
Geoff Donaghy, president, Geoff Donaghy serves as International Association of Convention Centers (AIPC) president, CEO of International Convention Center Sydney and director convention centers at AEG Ogden.
For further information, contact marianne.de.raay@aipc.org or visit www.aipc.org.