IATA airport code: DTW
Location: 11050 Rogell Drive #602, Detroit, MI 48242
Date Opened: First plane landed on Feb. 22, 1930; dedication was Sept. 4, 1930.
Size: The airport covers 4,850 acres with four main runways and two crosswind runways. It has 129 gates split between two terminals; McNamara with three concourses and North Terminal with one.
Transportation: For $2 travelers can take the 261, aka FAST Michigan, a limited-stop service that connects both the McNamara and North Terminals to the Rosa Parks Transit Center in downtown Detroit and points in between. The route is operated by The Suburban Mobility Authority for Regional Transportation, or SMART and travels twice per hour. Rideshares and limo services are available.
Fun Facts: The airport serves 140+ destinations and was named the best large U.S. airport in customer satisfaction by J.D. Power & Associates in 2010 and 2019.
At nearly a mile long, Concourse A in McNamara Terminal is the longest in the U.S. and the world's second-longest. The ExpressTram, a people mover that transports passengers between each end of Concourse A in about three minutes, is located there.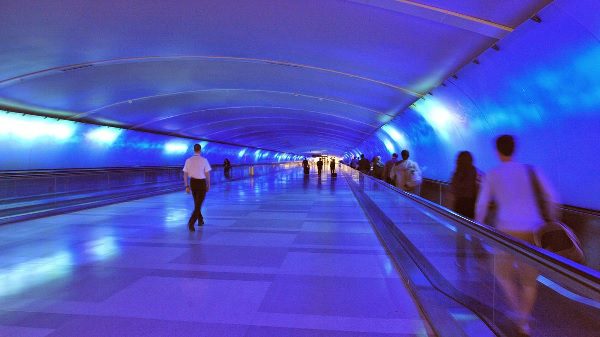 The Light Tunnel (pictured left), an elaborate multi-colored light show behind sculpted glass panels, extends the entire length of the walkway connecting the B and C concourses to the main terminal. The light patterns are synchronized to an original musical score, and goes nearly 30 minutes before repeating. A button on both ends of the tunnel allows visitors to turn the display off for five minutes if desired.
Website: www.metroairport.com
This story originally appeared in the Q1 2022 issue of Exhibit City News, p. 24-25. For original layout, visit https://issuu.com/exhibitcitynews/docs/ecn_Q1_2022