Location: 5757 Wayne Newton Blvd., Las Vegas, NV
Year Opened: Built in 1942, the airport opened to commercial flights in 1948 and was given its current name in 1968 (it was originally called Alamo Field). Efforts are being made to rename it after Sen. Harry Reid.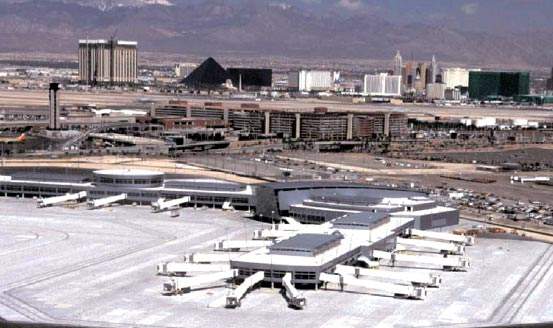 Size: McCarran International Airport (LAS) covers 2,800 acres with four runways and two terminals (one and three). In 2017, it served 48.5 million people making it the busiest year in the airport's history. It is one of the top ten busiest airports in the U.S.
Transportation: Buses from the RTC service the airport along with taxis, shuttles and ride shares services. The trams only offer service between terminals.
Fun Fact #1: Gaming starts the minute you disembark. McCarran and Reno-Tahoe are the only two airports in the U.S. with slots.
Fun Fact #2: McCarran is home to the third longest commercial runway in the U.S. Only Denver and John F. Kennedy in New York have longer ones. The runway closed in 2014 for a $67 million overhaul.
Fun Fact #3: McCarran is one of the closest airports to the city it serves. Only a short block separates the runway from the Strip. Prior to the terminal being built, Hacienda Airlines would disembark at the casino's front door (where Mandalay Bay Casino sits now).
Fun Fact #4: There's no terminal two. It was demolished in 2014 when terminal three was built. The (mostly) international terminal three cost $2.4 billion–the costliest public works project in Nevada.
Fun Fact #5: The airport is home to what is arguably the largest museum in Nevada, The Howard W. Cannon Aviation Museum. That claim stems from the location of its exhibits, scattered all across McCarran Airport, but also in the North Las Vegas Airport and the Henderson Executive Airport meaning exhibits can be as much as 22 miles apart.
Website: www.mccarran.com