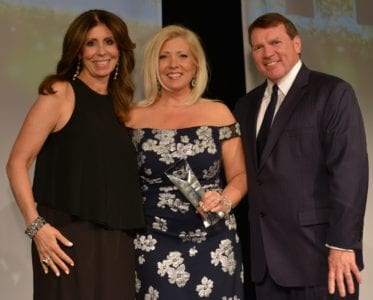 Jennifer Erney (center) is pictured here receiving the award from Susan Salem Euritt (left), vice president direct sales and business development at Garrett Brands; and Chris Wehking, chief program officer at American Society of Anesthesiologists. Euritt and Wehking serve on the 2017 PCMA Board of Trustees for the PCMA Education Foundation.
Jennifer Erney, who just joined Associated Luxury Hotels International as vice president of sales for the Mid-Atlantic region, was named the "2017 Supplier of the Year" by the Professional Convention Management Association at its 2017 PCMA Education Foundation Visionary Awards in Washington, D.C. on May 3. The "2017 Professional Excellence Awards" winners were selected from PCMA's membership, which is made up of nearly 7,000 members. PCMA is the world's largest network of business events strategists. Erney was one of only seven individuals honored with an award this year, and was recognized as the 2017 supplier of the year.
"Our 2017 honorees and award winners' accomplishments serve as inspiration to both industry veterans and novices alike," said PCMA President & CEO Deborah Sexton. "Each an expert in their profession – always endeavoring to lead the advancement of their organizations and the business events industry."
Based in ALHI's Global Sales office in Washington, D.C., Erney assists meeting professionals, association executives and incentive specialists in the Mid-Atlantic region who are interested in conducting meetings, conventions and/or incentive programs at any of ALHI's 250+ luxury-level, mostly independent member hotels and resorts worldwide. A highly accomplished hospitality industry sales executive, Erney previously served as the Director of Global Accounts – Meetings & Events for Fairmont Raffles Hotels International (FRHI Hotels & Resorts), which is now part of AccorHotels. In addition to being an active member of PCMA, she is a Certified Meeting Professional, Certified Association Sales Executive by PCMA, and a Certified Hospitality Sales Executive by Hospitality Sales & Marketing Association International.
ALHI's Chief Sales Officer Mark Sergot said, "We are very proud of Jennifer's accomplishments and recognition as supplier of the year for PCMA. I have had the pleasure of knowing Jennifer for over 10 years and continue to be impressed with her dedication to our industry and the work of PCMA. We are thrilled to have her as part of the ALHI family."
ALHI, the leading independent Global Sales Organization serving the meetings and incentive marketplace, features a distinguished portfolio of city center business hotels, exquisite resorts, historic grand landmark hotels, lifestyle hotels and boutique hotels, which all specialize in hosting meetings and/or incentive programs. ALHI's portfolio also features a Global Luxury Alliance partnership including 23 luxury cruise ships appropriate for meetings and incentive programs, and Destination Management Companies in 100-plus locations worldwide. For more information about ALHI, visit alhi.com.