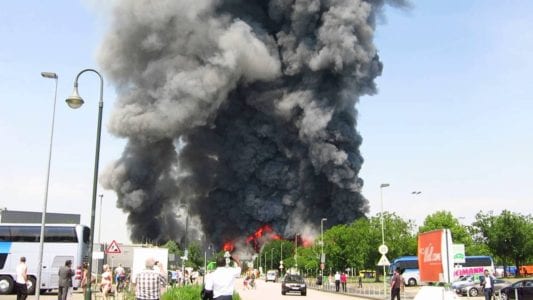 Hall 18 of Dusseldorf Messe, a large exhibition venue in western Germany, was declared a complete loss after arsonists set the building ablaze in early June. The structure is part of a large complex in Dusseldorf that houses dozens of trade fairs, though it is set away from the area of the grounds where exhibitions are currently being held. Hall 18 had been used as warehouse space for exhibitors prior to being converted to a Red Cross shelter for refugees last year.
Authorities say the facility was housing nearly 300 refugees seeking asylum from conflicts in North Africa and the Middle East. Conflict reportedly arose over observation of Ramadan, which requires that Muslims not eat between sunrise and sundown. When service of the day's hot meal was modified to accommodate the Muslim practice, a group of men not adhering to the fast allegedly protested by setting fire to a mattress. That blaze subsequently ignited the entire building and prompted the evacuation of 130 people, sending more than two dozen to the hospital for smoke inhalation. Two men have been arrested, and four more are being investigated for their possible roles in the fire.
Damage to the 65,000-square-foot structure is estimated to be at least $11 million. Officials have razed the building and relocated refugees to other parts of the city.
Photo: Jack Yamada