Global Experience Specialists (GES), a leader in exhibition, event and entertainment experiences, invites EXHIBITOR2014 attendees to experience "The Art and Science of Engagement" by visiting GES at booth #1969.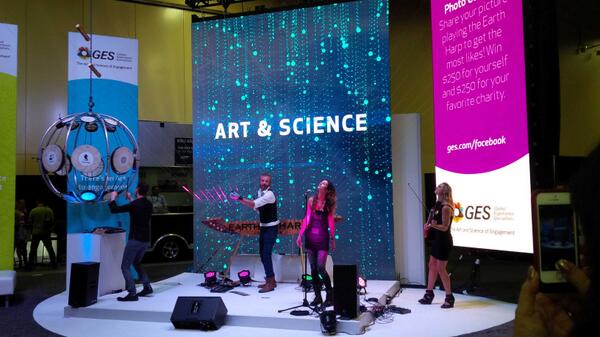 Throughout the show, William Close and the Earth Harp Collective will perform, and attendees are invited to play the instruments and become a part of the experience. GES will share how it generates a competitive edge and measurable return for clients by partnering with them to blend art and science, using the latest trends in design, technology and audio visual services.
"Our team looks forward to connecting with attendees and sharing how GES uniquely blends art and science, resulting in total engagement and a measureable return for our clients," said Jeff Quade, chief sales officer, GES. "We are committed to providing clients with unmatched service and easy-to-use technologies that make managing their exhibit program easier. Attendees will have the opportunity to demo our online tool Expresso Pro and be inspired by the interactive experience we've created. We believe attendees will leave as excited as we are about the possibilities for their exhibit program."
GES invites attendees to "Caption This" by visiting GES' Facebook page each day of the show and sharing their funniest or most creative caption for the photo GES posts. The winner will be announced at GES' exhibit, #1969 and on Facebook.
Attendees who play an instrument and have their photo taken will have the opportunity to win a cash prize. Photos will be shared on GES' Facebook page, and the person with the most "Likes" of their photo will receive $250 for themselves and $250 for a charity of their choice.
GES and client Philips Lighting are a finalist for an Exhibit Design Award in the Experiential Exhibits category and will be honored at the first ever EXHIBITOR Magazine 2014 Awards night, honoring tradeshow excellence.