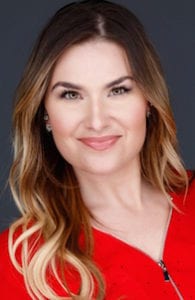 The Association for Women in Events, a not for profit organization supporting gender equality and diversity in the event industry, has announced its 2017 board members. The association received a significant number of applications for 11 available board positions. Founders and returning board members spent several weeks vetting candidates for these important leadership roles. The board of directors is expected to guide the vision of the association throughout the first formative years and shape the community surrounding the organization.
"We are thrilled to have a board of this caliber to support AWE's mission in 2017 and guide us into the future", said AWE Co-Founder & President Carrie Abernathy CMP, CEM, CSEP (at right), "We are very excited to launch several new and exciting initiatives in 2017 under the tutelage of these amazing professionals."
AWE is an inclusive community dedicated to the professional advancement of women in all facets of the events industry. The focus of AWE is to build a strong community where women inspire women, help others and take control of their careers. AWE facilitates the resources and connections to identify professional solutions, mentors and opportunities for women.
AWE was established in Washington, D.C., March of 2015 and opened international membership to women and men in the events/meetings industry in January of 2016. It's inaugural board was comprised of 23 women and men from all areas of the meetings, conventions, events and exhibitions industry. Membership benefits include an immediate coaching program, access to the international membership directory, a robust events calendar, a quarterly educational eNewsletter, monthly webinars, ability to apply for Sponsorship Circle and 40+ opportunities for volunteer leadership positions. AWE offers annual individual, student, corporate and faculty memberships.
The board members have one- and two-year roles. New board members were chosen from an array of fields to including media, government, corporate, and association markets. The new board members hail from across the U.S. as well as internationally, such as Taiwan and New Zealand. The official 2017 Board of Directors roster can be found at http://www.womeninevents.org/Content/Board-of-Directors/6/.
For more information, visit the website or email admin@womeninevents.org.