submitted by Astound Group
ASTOUND Group, the experience design studio known for world-class production and fabrication, announced the appointment of Joshua Friesel as Chief Growth Officer. Friesel has been added to the team to lead the overall management and strategy of the company's business development and expand its work in sectors such as sports, fashion, retail, arts, tech, and entertainment.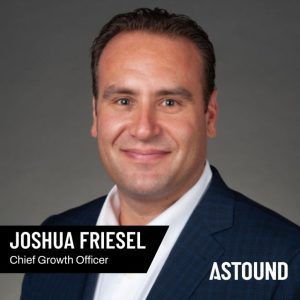 "Josh brings a wealth of experience in business development and strategy from a broad range of sectors, from entertainment to web3," said ASTOUND Group CEO Joe DiMuro. "His work at MSG Entertainment and OakView Group will position ASTOUND to grow in the sports world and build upon what we've already achieved with prior large-scale projects in this space. We welcome Josh to our leadership team to help ASTOUND into a new era and serve brands and partners in new and emerging industries."
A marketing innovator, Friesel brings over 20 years of experience in sports entertainment and media as well as business development. He spent the past year as Executive Vice President at Orange Comet, the Web3 studio behind NFT collections for the Walking Dead and Anthony Hopkins, where he oversaw sales and partnerships. Prior to that, he was the Director of Global Partnerships at Oak View Group, Vice President of Business Development at OpenFortune and got his start in the role as the Director of New Business Development at Madison Square Garden Entertainment Corporation.
"Assuming a leadership role at ASTOUND during its next stage of development is a tremendous opportunity," expressed Josh Friesel, Chief Growth Officer. "ASTOUND has consistently demonstrated its ability to bring brands to life through cutting-edge and visionary approaches, and I am eager to contribute to the firm's growth across diverse industries."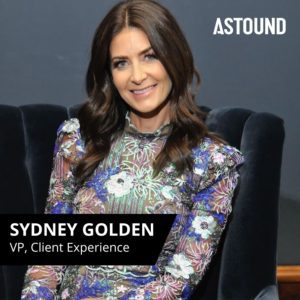 ASTOUND is also thrilled to announce that Sydney Golden has joined ASTOUND Group as VP, Client Experience. Sydney will lead and manage our event management team to deliver best-in-class experiences for our clients. Sydney is a seasoned marketing professional with over two decades of experience developing and executing innovative marketing strategies for high-profile sports and entertainment brands. She has worked for leading organizations like Marketing Werks, the Pittsburgh Pirates, the Washington Nationals, the NFL Players Association, and Kroenke Sports and Entertainment.
To learn more about ASTOUND, please visit astoundgroup.com.
ASTOUND Group
ASTOUND is an experience design studio, partnering with best in class brands, agencies, design firms, and world class architects to create unforgettable physical and digital experiences that drive business results. With state-of-the-art production facilities operating from coast to coast, ASTOUND and its partners take a holistic approach integrating creative, design, production, fabrication, and architectural services for permanent and temporary experiences.