Atlanta Convention & Visitors Bureau hosted its 110th annual meeting May 18. During the program, Mayor Dickens revealed Atlanta's FIFA World Cup 2026 logo. It was an exciting day for ACVB.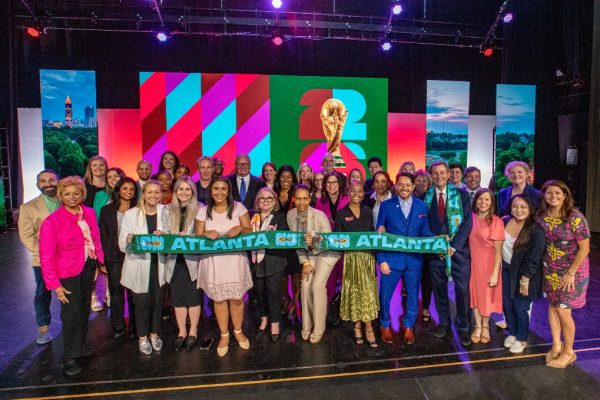 William Pate and ACVB staff members hold Atlanta's FIFA World Cup 2026 branded scarves.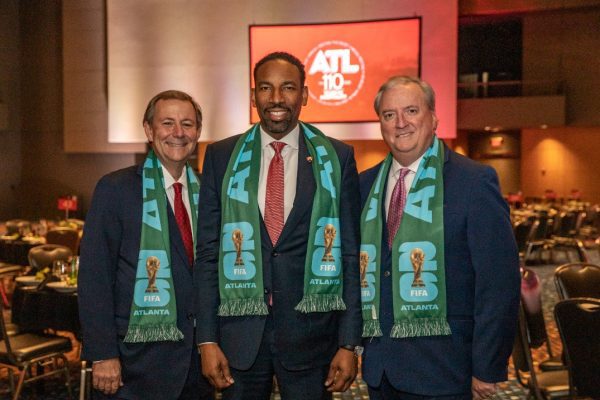 Left to right: William Pate, president and CEO, ACVB; Mayor Dickens; and Bob Somers, chair of the board of directors, ACVB wear Atlanta's FIFA World Cup 2026 branded scarves.
2026 World Cup City:  Atlanta, a U.S. city is hosting the World Cup in North America. It is one of the sixteen cities that will host the FIFA World Cup in 2026. Atlanta, Georgia, is one of the eleven US cities that have made a stadium available – Atlanta has the Mercedes-Benz Stadium – in addition to two Canadian and three Mexican host cities. Click here for most up to date information on FIFA 2026.
Current facts, figures and other information on Atlanta:
State: Georgia
City population: 498,044 (2018 est.)
Time zone: winter UTC-5 (EST), summer UTC-4 (EDT)
Altitude: 76-98 meters
Exp. temperature during the 2026 World Cup: between 20.1 – 31.7 °C
Venue: Mercedes-Benz Stadium
Seating capacity: 71,000
Atlanta World Cup City
Atlanta is the capital of the U.S. state of Georgia, also named the American capital of the New South. Serving as the main end station of a major railroad, Atlanta was founded in 1837. Since the 1960's, this candidate Host City is the cultural and economic center of the Atlanta metropolitan area, where almost 6 million people work and live.
2026 World Cup Atlanta tourist hotspots
Atlanta attractions:
Experience Atlanta, host of the World Cup 2026. Museums, parks, shopping centers, events, galleries, historical, cultural and/or musical experiences and other places of interest. Click here for all you need to know about Atlanta.
Inside CNN Atlanta Studio Tour
See how the news is made. Or catch a glimpse of a CNN anchor. Take the Inside CNN Studio Tour and get a unique view of the global headquarters of this news giant.
Georgia Aquarium
The world's largest aquarium. Featuring the world's largest fish, whale sharks, as well as belugas, dolphin, otters and more. Escape into an underwater paradiseworld's.
Martin Luther King Jr. National Historic Site
Atlanta is the birthplace of Martin Luther King Jr.
High Museum of Art
More than 11,000 permanent collections. Located in the middle of Midtown Atlanta's Arts District. Also featuring high-profile traveling exhibits.
Stone Mountain Park
Outdoor fun. Go hiking, biking or jogging, take in 18 holes of golf, complete the ropes course, catch a movie projected onto the mountain and enjoy the spectacular nightly laser show!
World of Coca-Cola
Take in tons of Coca-Cola memorabilia and visit the tasting room, with more than 60 varieties of Coca-Cola from around the world. Taste the Secret Formula…
Downtown: Centennial Olympic Park Atlanta's Centennial Park District
Experience the legacy from the 1996 Summer Olympic Games with the Fountain of Rings and many more activities.
SkyView Atlanta
Huge Ferris wheel!
The Children's Museum of Atlanta
Wonderful for ages 2-8.
Center for Civil and Human Rights
Learn about the history of the American civil rights movement and contemporary human rights movements.
Margaret Mitchell House and Museum
Historische Fox Theatre
Chick-fil-A College Football Hall of Fame
A fantastic interactive attraction with galleries.
Learn more from Atlanta Convention & Visitors Bureau Atlanta Travel & Tourism Guide .
Atlanta Sports & Soccer City
Since the Atlanta Chiefs won the North American Soccer League in 1968, Atlanta has served as a host for major soccer games, for the final stages, and matches, of the CONCACAF Gold Cup, the MLS All-Star Game and the Olympic Games (1996, where the U.S. Women's National Team won the gold medal). Other than soccer, the Super Bowl, the NCAA Men's and Women's Final Four (basketball) and other events, such as the NBA and MLB All-Star Games, were held/hosted in Atlanta.
Atlanta team in MLS
Atlanta United FC joined the Major League Soccer in 2017. The MLS team holds the highest average home attendance record in this professional soccer league: 48,200 fans per game. Atlanta United FC's home is the Mercedes-Benz Stadium, where at the stadium's opening 71,874 spectators attended the first match ever played there, which is an all-time record for a single MLS match audience.
Source: Logan Doctson, Discover Atlanta