During an October 2013 #ExpoChat Twitter discussion between tradeshow planners, exhibitors and marketers, the topic of augmented reality (AR) surfaced. It sparked a fierce, but friendly debate on whether or not the new technology is worth the investment for exhibitors.
The entire debate boiled down to one simple question: Is augmented reality's potential enough reason for exhibitors to start adopting it? On the surface, one may dismiss it as just another technology fad, but a closer look into AR capabilities reveals an obvious fit for exhibitors.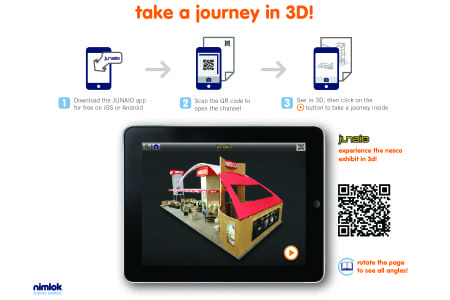 Augmented reality is a form of technology that provides an enhanced view of reality by overlaying digital content like images, sounds and information on a live 2D image or video viewed through devices like cameras, smartphones or tablets. While AR technology may still be in its growing stages, Juniper Research predicts that AR is on track to increase to nearly 200 million unique users in 2018 and forecasts it to become a key platform for communication and commerce in the future.
Coupled with the continued growth of smartphone and tablet users, the audience for AR is growing wider, and tradeshow attendees are a prime target for what AR technology has to offer.
Memorable & interactive experiences. More than ever, attendees (especially Gen X & Y) are seeking more than a sales pitch when walking into a booth. AR can be used to engage attendees with your brand and create a memorable, interactive experience they'll want to talk about and inherently share with peers. AR puts the attendee in control of what they want to see and puts them in the driver's seat of the demonstration.
Enhanced product & service demos. Not only is AR memorable, it's informative – especially when used to enhance product demonstrations and educate attendees of the services you provide. AR can be used to layer additional information over physical products or used to showcase the product itself.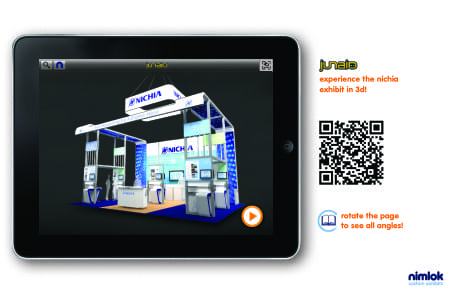 In that aspect, AR enables exhibitors to present and show large-scale products and solutions within a tradeshow space that continues to meet their budget. Big name companies are already applying augmented reality to maximize space use. For example, Toyota used an AR kiosk to project a car in their space that could then be rotated and customized. Attendees were able to view and interact with many cars in just one small space, and do it in a way not possible with a large physical object.
Enhanced collateral & takeaways. Exhibitors are continually fighting to keep collateral materials and giveaways from ending up in the trash, which amounts to roughly 80 percent being discarded within the host city. Because most AR can be easily used with any smartphone or tablet device, it becomes a takeaway and allows the user to re-experience and share the content post-show. Postcards can be turned into games or full collateral pieces can be enhanced with 3D visuals.
Nimlok, a division of Orbus Exhibit & Display Group, and Ultima Displays, a sister company of Orbus in the UK, are exhibit and display suppliers and manufacturers that have applied AR technology to enhance catalogs and brochures with 3D views that educate readers, better showcase large-scale products and promote wider use of collateral through the use of cutting-edge technology.
"Our dealers use it as a tool to show custom exhibits when visiting clients and prospects," said Amy Benes, marketing supervisor, Nimlok. "It enables them to show this type of exhibit solution without requiring the customer to visit a showroom. In addition, it puts the power in the hands of the customer to see when and how they wish."
Other companies have even applied AR to their own products, like Ben & Jerry's, which used AR technology to turn their ice cream pint caps into 3D pieces of art, each reflecting the individual product.
Endless application possibilities. What sets AR apart is its highly customizable and versatile nature. Unlike its sister technology, QR codes, which essentially provide only one kind of experience, AR applications are often built to uniquely engage users in a variety of ways, ranging from product demos and education to fun and games. AR proves itself to be a powerful tool to bridge the gap between the physical and digital world in a continually more hybrid tradeshow industry, without alienating an audience that craves engagement.
So when we look again at the question posed in that #ExpoChat discussion – Is Augmented reality's potential enough reason for exhibitors to start adopting it? – the clear answer is yes.
Justine Savage is a marketing coordinator at Nimlok, a custom and custom modular division of Orbus Exhibit & Display Group. Savage manages public relations, social media and Web development to increase engagement. She can be reached at justines@nimlok.com.