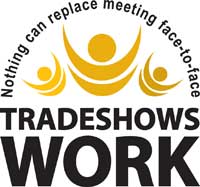 Convention industry and meeting professionals from Illinois to Virginia are fighting back against a tyrannical economy. Grassroots campaigns and reaffirming mottos are materializing, and supporting the industry nationwide offering positive assertions about the effectiveness of tradeshow networking.


According to a report published by Johnston Press Digital Publishing, during the 1970s international corporations decided teleconferencing would be more effective than face-to-face meetings. They soon found depriving their companies of interpersonal communication prevented developing rich human understanding, effective persuasion, and the fostering of goodwill and friendship.
The Convention Industry Council (CIC) and Orbus Exhibit & Display Group, producers of the campaign themes FACE TIME. It Matters and Tradeshows Work, are spreading the word that in 2010 there is still no replacement for one-on-one time.
Supporting this claim, Ypartnership, an Orlando, Fla.-based brand strategy, marketing and public relations firm, conducted a national survey of corporate and association meeting planners whichrevealed such results as, in person meetings build trust and relationships; education and training are more effective in live settings;meetings result in a more effective exchange of ideas and provide human connection.
"We feel it is essential to partner with our distributors, tradeshow associations, the media, and our competitors to start a nationwide movement to communicate and emphasize that Tradeshows Work," said Giles Douglas, president and CEO of Orbus. "Tradeshows and events still represent the best and most meaningful way to connect with key customers. We need to be advocates who communicate this to the marketplace."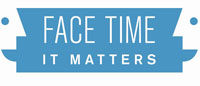 This sentiment is echoed by the Convention Industry Council, which incidentally is actively publicizing the similar campaign of FACE TIME. It Matters.
"We're very excited about the launch of this grassroots campaign," said Gregg Talley, chief strategy officer for the CIC. "The CIC and its members will utilize the message to promote the irreplaceable benefits of human interaction and relationship building that may only be realized through face-to-face meetings."
According to the FACE TIME. It Matters website, Meetings Mean Business which is launched by the U.S. Travel Association (USTA), is a comparable campaign which speaks to the economics and business of the exhibition industry.
"The FACE TIME. It Matters campaign will bring home the critical human side of the meetings value equation," said Roger Dow, president and chief executive officer, USTA. "When combined with our Meetings Mean Business effort and Oxford Economics' compelling findings on the positive financial return from meetings, it becomes crystal clear how important meetings are to talent growth, business development, and the economic vitality of our communities."
The convention industry businesses are sounding a call to arms for all industry members to promote what has already proven to be a driving economic force in this country; conventions, meetings and events.
"In the last ten years our industry has had to wrestle with the impact of a domestic terror attack, two serious recessions, several actual and potential pandemics, and even a volcanic eruption, all of which resulted in millions of deferred trips to business conferences, trade events, meetings and vacations," said Steven Hacker, IAEE president/CAEE. "We can no longer take for granted the assumption that business leaders fundamentally understand what you can and can't achieve without face-to-face events. This campaign helps make that logical connection for those who need to be reminded."
The campaigns, individually and collectively are meant to rally industry participants, and so far it is drawing support.
"PCMA is happy to be a funding sponsor and supporter of the meeting industry's 'Face Time. It Matters.' campaign," said Deborah Sexton, Professional Convention Management Association president and CEO. "I sincerely hope people will take the time to visit facetimematters.org to learn more and check out the handy toolkit."
Economic growth can be fostered and encouraged by the usage of these industry movements.
"After the economic crisis of 2008 and negative comments on meetings, it was apparent our industry was caught flat-footed and unprepared to respond with one voice on the value of meetings," said Sexton. "This campaign helps us all talk about important aspects of meetings that don't happen in other ways such as building relationships, effectively exchanging ideas and solving problems, saving time and money and moving business forward."
According to Cathy Breden, CAE, CMP, executive director, Center for Exhibition Industry Research (CEIR), exhibitions and other face-to-face events continue to demonstrate that exhibitions generate business. In a study conducted by Oxford Economics in 2009, for every dollar invested in travel, business benefits an average of $12.50 in incremental revenue and $3.80 in new profits. Further, in the same study, findings indicated that between five and 20 percent of a company's new customers was the result of tradeshow participation. Face-to-face meetings and the business they generate will help the U.S. economy recover.
The convention, meetings and event industry is an irreplaceable faction of business and the economy. It will not just lay down and die especially with members fighting for the cause with such an effective weapon; word of mouth.