bXb Group LLC, a holding company consisting of BOB.tv (Best of Business) and Culture22, expanded its leadership team by one.
Serving in a dual role as executive director and managing director is Eric Rozenberg, a leader in the global B2B events marketplace.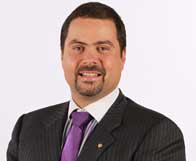 "While collaborating with Eric in a variety of industry initiatives over the last 13 years, we have always wanted to team up on a more comprehensive level, and that opportunity has now arrived," said Tony Lorenz, CMM, co-founder and CEO, bXb Group. "Through bXb Group's growth, and Eric's rise to the top of our industry as a global thought leader, we will work together to create significant new value for the industry we serve. bXb Group is proud to include Eric in our leadership team as we move our business forward."
Lending support to the respective missions of both organizations at bXb Group, Rozenberg will work as the executive director of BOB.tv's B2B Events Network, an online platform that aggregates B2B events industry content and community, and as the managing director for Culture22, bXb's creative and interactive marketing agency.
As an executive director, Rozenberg will serve as a primary spokesman for the platform, leading editorial direction, partnership development and BOB.tv member engagement strategy. As a managing director, his strategic expertise in the area of event design and execution of global markets will be utilized to build a team. One of Rozenberg's key responsibilities with the company will include building an event strategy practice focused on aligning clients' business goals with their event strategy and execution.
"I am beyond thrilled to join bXb Group," said Rozenberg. "I have an immense respect for Tony and his team's unique entrepreneurial spirit and collective talent, and I embrace their vision for the next chapter of the B2B marketplace. My background and passion in global event design and strategy, together with these organizations' mission for supporting the meetings and events industry signaled a perfect fit."
Previously serving as a management consultant for Fortune 500 companies, leading global brands and associations, Rozenberg is focused on strategy, design, execution and results for B2B global events.
Earning coveted leadership roles through his long-standing professional and industry volunteer efforts, he has served as 2010-11 chairman of the international board of directors for Meeting Professionals International; non-executive chairman for Reed Travel Exhibitions for the IBTM Global Events Portfolio; positions on the IAEE International Committee; and leadership in the Demoucelle for the Parkinson Foundation.