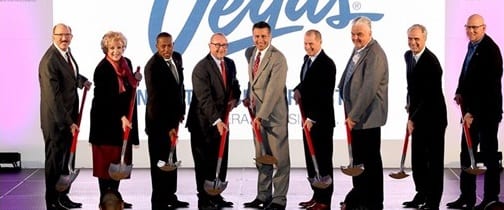 The Las Vegas Convention and Visitors Authority and local leaders gathered to celebrate the historic ceremonial groundbreaking for the LVCC District Phase Two expansion project on Jan. 8.
"This is an incredibly exciting milestone for the entire destination, as this expansion will allow us to not only retain our status as the No. 1 convention city, but ensure our economic future by continuing to provide the unparalleled experience our guests and clients have come to expect," said Rossi Ralenkotter, LVCVA president and CEO. "The LVCCD project is one of the most thoroughly vetted in Nevada history, which is fitting as we prepare to move forward with a world-class expansion to our facility. Las Vegas thrives on evolution and reinvention, and the LVCCD project will give us a convention center tantamount to one of the world's most iconic and vibrant cities."
Community and business leaders, including Nevada Governor Brian Sandoval, Clark County Commissioners Steve Sisolak and Lawrence Weekly, Las Vegas Mayor Carolyn Goodman, and Consumer Technology Association President and CEO Gary Shapiro, joined Ralenkotter to officially kick off the beginning of one of the most significant economic development projects in Southern Nevada.
The LVCCD's Phase Two is an $860 million expansion project that will add 1.4 million square feet to the current convention center facility, including at least 600,000 square feet of new, leasable exhibit space. The expansion is slated for completion in time to welcome CES in 2021. Last month, the LVCVA's Board of Directors finalized the selection of tvsdesign/Design Las Vegas to provide design services for the expansion project.
Phase Three will be the complete renovation of the existing 3.2 million-square-foot facility, with a projected completion date of 2023. The phased approach will ensure that no business will be displaced during the construction and renovation. LVCVA staff worked in partnership with Cordell Corporation principal Terry Miller, the agency's contracted owner's representative, to develop the vision for the expansion and renovation project.
"Las Vegas is a leading destination for business and leisure visitors because we offer world-class entertainment, attractions and experiences, and with this project, our largest convention center will remain one of the world's leading facilities," said Lawrence Weekly, chairman of the Las Vegas Convention and Visitors Authority and Clark County Commissioner. "This expansion will bring tremendous opportunities to create jobs and support local families, while also welcoming even more visitors to our destination and ensuring our economy will continue to flourish."
In 2016, Las Vegas hosted nearly 22,000 meetings, conventions and trade shows, which directly supported an estimated 54,800 jobs paying $2.3 billion in wages and salaries. The Las Vegas Convention Center hosted 22 percent of convention attendees traveling to southern Nevada, which directly supported approximately 11,800 jobs, paying $495 million in wages and salaries. Including indirect and induced impacts, the Las Vegas Convention Center's attendees generated $2.7 billion in economic impact throughout the local economy.
The LVCC District Expansion (Phase Two) and Renovation (Phase Three) are expected to support nearly 14,000 construction jobs and nearly 7,800 full-time permanent jobs upon completion. The project will generate an additional $2.1 billion in economic activity during construction and upon completion will have an annual incremental economic impact of $810 million while attracting more than 600,000 additional visitors each year.
Overall, the tourism industry continues to be crucial to Southern Nevada's economy generating $60 billion in total economic impact, supporting 407,000 jobs and $16.9 billion in local wages and salaries. These jobs represent 44-percent of Southern Nevada's total workforce. The project will allow the Las Vegas Convention and Visitors Authority to pursue new business opportunities while also growing the shows currently taking place in the destination.
The Las Vegas Convention and Visitors Authority is charged with marketing Southern Nevada as a tourism and convention destination worldwide, and also with operating the Las Vegas Convention Center and Cashman Center. With nearly 150,000 hotel rooms in Las Vegas alone and more than 11 million square feet of meeting and exhibit space citywide, the LVCVA's mission centers on attracting ever increasing numbers of leisure and business visitors to the area. Download the virtual reality app, Vegas VR, to experience Las Vegas from your iPhone or Android by visiting http://www.vrtv.vegas/. For more info, visit www.lvcva.com or www.visitlasvegas.com.