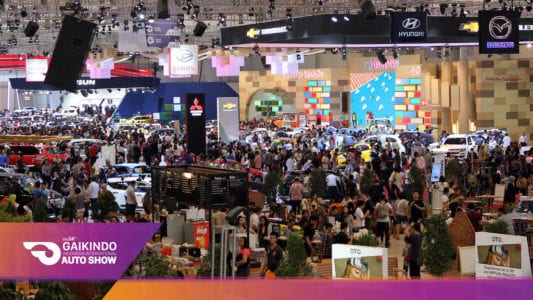 Comexposium Group recently announced a new joint venture with Amara Group (also known as API – PT Amara Pameran International), a major player in events organization in Indonesia. This new partnership that will be finalized in August includes notably GIIAS (GAIKINDO Indonesia International Auto Show), the leading auto show in Indonesia.
GIIAS gathers more than 360 exhibitors (including the leading international car manufacturers) and welcomes 450,000+ visitors, both BtoC and BtoB players. Established in 1986, the show has become over the years the unmissable event for this industry in Indonesia. The underlying market offers great potential for expansion: Indonesia is currently the second largest manufacturer in APAC region with 34% market shares, and consumption will be driven by the addition of 21 million new consumers projected in 2020.
GIIAS is owned by GAIKINDO Association (The Association of Indonesia Automotive Industries) and accredited by OICA ("Organisation Internationale des Constructeurs d'Automobiles") an international organization of motor vehicle manufacturers.
The goal of this joint venture is to combine Amara Group's know-how of the automotive industry and Comexposium's global network to:
 Increase international participation and attendance to GIIAS
 Accelerate the creation of new events addressing the industry (to start with the GAIKINDO Bus & Truck Show that will be launched in 2018).
Amara Group is a professional exhibition organizer founded in 2014 and based in Jakarta, Indonesia. Thanks to its international standards and ability to work with a Global approach, Amara Group has the expertise in transforming national-scale into international-scale events in Indonesia.
Andy Wismarsyah, Amara Group CEO, said: "We are very excited with this new partnership between Comexposium and Amara Group. As an Indonesian based Exhibition Organizer, Amara Group will be highly benefited by the international expertise and its best world-wide reputation that Comexposium has. We hope the collaboration will strengthen GIIAS's position as Indonesia's leading Auto Show and will drive the show to be one of the best Auto Show in the APAC region."
Renaud Hamaide, Comexposium CEO, said: "I'm delighted to announce this partnership with Amara Group, in line with our strategy of international expansion. This alliance will allow us to combine our Group's expertise and strengthen Comexposium presence in APAC region. Having known the key people of Amara Group for some time now, I appreciate their professionalism and energy. I really look forward to working with this group on that exciting partnership, to develop our activities in automotive events in Indonesia."
Paul Lee, Comexposium APAC Regional CEO, will be overseeing this partnership on Comexposium's side: "The GAIKINDO car show is a well-established and popular event in Jakarta's annual calendar. Many fans look forward to it for special deals and to celebrate product launches. It has to date been well-organized by a solid team in strong, close partnership with the association. We are thrilled to have the opportunity to continue building on that and aim to augment the experience for our customers and the automobile-loving community by bringing even more engaging and international content".
The GIIAS team, based in Jakarta, will remain under Mr. Romi supervision.
The seller's advisor on the transaction was UK based broker Mayfield Merger Strategies.
The COMEXPOSIUM Group, one of the world's leading event organizers, is involved in more than 170 B2C and B2B events across 11 different sectors, including food, agriculture, fashion, security, digital, construction, high-tech, optics and transport. COMEXPOSIUM hosts more than 3 million visitors and 45,000 exhibitors in 26 countries around the world. COMEXPOSIUM operates across 30+ global economic growth zones, such as: Algeria, Argentina, Australia, Belgium, Brazil, Canada, China, France, Germany, India, Indonesia, Italy, Japan, Korea, Monaco, Netherlands, New Zealand, Philippines, Qatar, Russia, Singapore, Spain, Thailand, Turkey, UAE, UK, USA. For more info, visit www.comexposium.com.