On Feb. 4, fresh foundations lined the new RAI Amtrium building, which is being constructed as part of the Amsterdam RAI Exhibition and Convention Centre.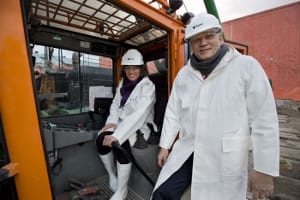 A ceremony heralding this start of construction officially was kicked off by Carolien Gehrels, Amsterdam alderwoman of Economic Affairs, and Hans Bakker, general director of Amsterdam RAI.
During the event, the RAI received the four-star BREEAM-NL new buildings design certificate (Excellent level) from the Dutch Green Building Council. Various Amsterdam RAI business relations, the architect and building partners attended the ceremony.
Preparations for the construction of RAI Amtrium, a flexible and sustainable conference, meeting and office concept on the city center side of the Amsterdam RAI complex, started in October 2013. Designed by Mels Crouwel of Benthem Crouwel Architekten, the building seamlessly fits in with the current RAI complex while providing a new and modern look within the desired urban planning framework.
Large greenhouse for 'city farming'
In addition to the atrium, the most eye-catching element is the large greenhouse for city farming. It will provide vegetables and herbs for the new restaurant ROAST Amsterdam, which will be realized in the low-rise part of the Amtrium. ROAST Amsterdam is a rotisserie concept by Michiel Deenik from the restaurant Visaandeschelde.
Sustainable building
The compact building is being developed with the most sustainable technologies. Amsterdam RAI and its partners aim to be the first conference center in the Netherlands to attain the BREEAM-NL Excellent level. During the foundation ceremony, Annemarie van Doorn, director of the Dutch Green Building Council, presented the four-star BREEAM-NL new buildings design certificate (Excellent) to RAI general director Hans Bakker.
"Amsterdam RAI is one of the frontrunners in the Netherlands with regard to sustainability," said Van Doorn. "This fact has been further underlined by the design of the Amtrium. I am also delighted that a healthy indoor climate is part of the design. The vertical greenhouse, which will provide both fresh crops and clean air, is a real eye-catcher."
Future Vision Amsterdam RAI
RAI Amtrium is the first project to result from the RAI (Spatial) Future Vision concept developed by Amsterdam RAI and the City of Amsterdam (Dienst Zuidas). The new facility reinforces the RAI's commitment to invest in sustainable innovation and strengthen its position as an internationally leading exhibition and conference center. The Amtrium will open May, 1 2015.