The Kay Bailey Hutchison Convention Center
by F. Andrew Taylor
The Kay Bailey Hutchison Convention Center is near the center of the city with easy access to multiple highways. The facility began its existence as the Dallas Memorial Auditorium. That structure still exists and is operational within the expanded convention center, but for multiple reasons, including not meeting ADA requirements, it is not in heavy use.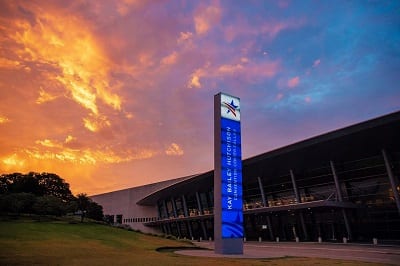 It wasn't until the 1970s that it was expanded and named the Dallas Convention Center. Several expansions have been built over the years and, in 2013, it was renamed after former U.S. Senator Kay Bailey Hutchison, making it one of the few CCs named for a woman, and a living one at that. As of this writing, she is the U.S. ambassador to NATO.
In February of 2019 Spectra Venue Management signed a five-year contract to handle the day-to-day operations of the facility. Spectra operates scores of facilities across the U.S. The KBHCC has nearly 2 million sq.ft., with 1 million sq.ft. of exhibit space. There are 65,124 sq.ft. of ballrooms, 88 meeting rooms, a 1,750 seat theater with dressing rooms and a 21,290-sq.ft. arena with 9,816 seats.
The KBHCC is also unusual in that it includes heliport/vertiport with conference rooms. In operation since mid-1990s, the 169,000-sq.ft. flight deck is unusual in that it is elevated and designed to accommodate rotorcraft and tiltrotors, aircraft that can take off and land like a helicopter but fly like a plane, such as the Osprey, a  plane that is rarely seen in most other places. Very sci-fi. Up to two tiltrotors and three helicopters can use the facility simultaneously. Technically, any rotorcraft can use the vertiport, but it is primarily used by law enforcement, traffic and media helicopters and private charters.
The KBHCC has hosted several significant conventions and events, including the annual Dallas Auto Show, the annual Fan Expo Dallas,  the 1984 Republican National Convention, Wrestlemania 2016 and the annual VEX Robotics Competition, which is set to return in April 2021 for at least three years.
The auditorium has also hosted a wide variety of musical acts from Elvis Presley to Elvis Costello, along with non-Elvis performers including The Jackson 5, Madonna, James Brown, The Beatles, The Rolling Stones, Jimi Hendrix and LED Zeppelin.
The center was utilized as an emergency shelter for Hurricane Katrina refugees in September 2005.
This story originally appeared in the Sept./Oct. issue of Exhibit City News, p. 40. For original layout, visit https://issuu.com/exhibitcitynews/docs/ecn_sept-oct_2020