For the 7th consecutive year, the major awards show, Danish MPI Awards, celebrated the work of the individuals and companies, who have contributed to and impacted the Danish meetings industry over the last year.
A total of 15 awards were presented by the Danish chapter of MPI, the world's largest association for those working in the meetings, conference and events industry.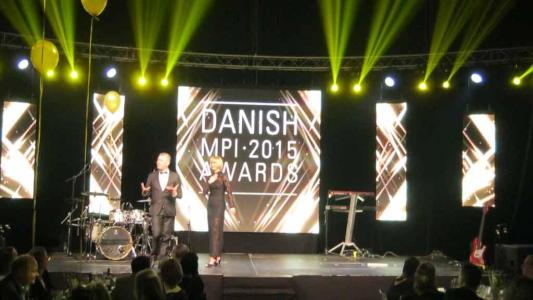 Wonderful Copenhagen CVBs #BeeSustain campaign took home the award in the category 'Best Campaign', which is given to 'a company or an individual whose campaign has managed to present a meetings destination- or product in an innovative manner to members of the national or international meetings industry'.
#BeeSustain has previously been one of three nominees for the prestigious International Congress and Convention Association (ICCA) Best Marketing Award and played a crucial part when Wonderful Copenhagen CVB won the ICCA Best PR Award in late 2014.
The #BeeSustain campaign has the dual purpose of showcasing Copenhagen as a green meetings destination and asking all meetings professionals to share best sustainable event management practices.
The campaign uses humor and story-telling to get across a serious message and was launched at IMEX 2014 and on Twitter. Since then, the campaign has achieved a tweet reach of more than 6 million and reached a global user-driven status on Twitter.
Wonderful Copenhagen CVBs Head of Communication, Ulrika Mårtensson, who is the mastermind behind the #BeeSustain campaign was also the winner of the Outstanding Achievement award.
The following individuals and companies were honored with awards by the members of MPI Denmark:
Best Campaign – Wonderful Copenhagen with the #BeeSustain campaign
Best Return on meeting Investment – Crone & Co.
Best Technical Solution – ConsensusOnline
Event Planner of the Year – Anette Houghs
Meeting Planner of the Year – Jette Borner
MPI Member of the year – Karin Krogh
Best Catering Experience – Madkastellet
Best Conference Partner – ConferenceCare
Best Content Facilitator – Karin Krogh
Best Event Agency – Eventforce
Best Event Venue – DR Koncerthuset
Best Innovator – Eventforce
Best Logistic Solution – ConferenceCare
Best Meeting Venue – Kurhotel Skodsborg
Outstanding Achievement -Ulrika Mårtensson, Wonderful Copenhagen