by Kevin Dana
The CORT Events team treated the greater Philadelphia area to a sensational pop-up Grand Reveal Party to unveil their latest collections in the summer of 2019. The event featured five distinct areas, each with a unique theme inspired by a new product release and incorporating elements to appeal to all five senses: Botanical Garden, Day in the Life, Space, Earth and Gemstone.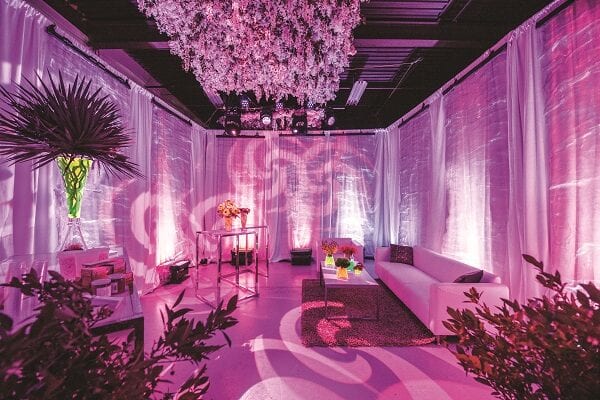 "We wanted each area to have its own sensory experience—from the visual appeal of the décor, to the textures of the furniture and drape, to the taste of the food, and even the smell," says Kellie Mayrides, district account executive for CORT Events Pennsylvania and host of the Grand Reveal Party. "We piped different scents into each area. For example, we used a leather scent in the Earth Lounge as an additional subconscious cue to evoke the feel of the room."
"As we plan our events, we ask how we can incorporate the five senses—taste, sight, touch, smell and sound—to create an engaging experience that will leave a lasting impression on our guests," she explains. From the texture of the furnishings, to the scent of a room, every little detail matters in event design.
Guests entered the event through a tent reminiscent of a botanical garden (top picture), complete with a "living bar" where they ordered herb-infused cocktails and relaxed on the new sage green Capri Collection. Laguna chairs surrounded café tables with custom decals, and personalized Marche ottomans were made to look like tree stumps.
The Day in the Life Lounge featured White Baja seating and new Posh Bar Tables with touches of gold as an ode to a beautiful midsummer day. Choreographed lighting and music transitioned the room from a grad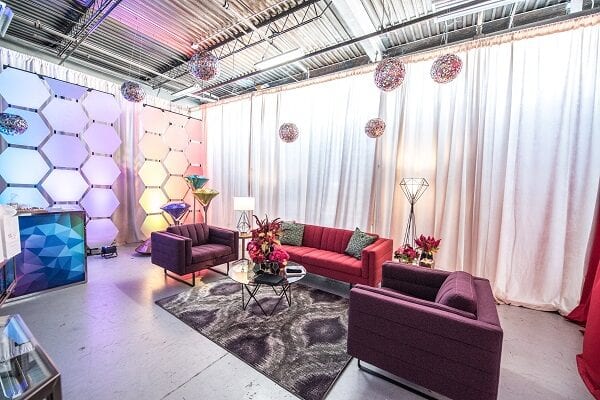 ual sunrise to sunset, and florals cleverly soaked in a solution to make them glow in blacklight shifted the room to "after dark."
For an other-worldly experience, the Space Lounge (pictured right) utilized dry ice for a fog effect that transported guests to an icy planet. By projecting stars onto free-standing whiteboards, the room felt as though it were moving through space. Ochre Bowery and charcoal gray LaBrea chairs provided a futuristic element, and as the final touch, guests enjoyed freeze-dried treats like Astronaut Ice Cream.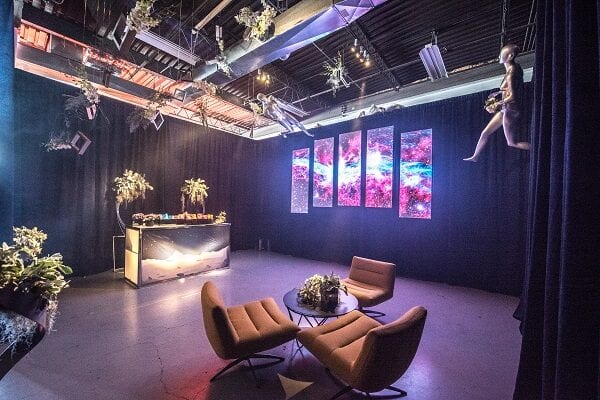 When guests were ready to return to solid ground, the Earth Lounge (pictured left) was waiting for them with on-trend velvet seating in coffee brown and spice orange tones. For those looking for a more glamorous experience, the Gemstone Lounge displayed fine jewelry by Milanj Diamonds for guests to try on while enjoying cheese and prosecco provided by Di Bruno Bros Catering & Events.
Every moment of the pop-up Grand Reveal Party was curated to leave guests inspired and wanting more. Introducing creative sensory elements in each lounge truly made for a memorable event experience.
Kevin Dana is executive director of marketing and product development at CORT Trade Show & Event Furnishings. For more info about CORT's exhibit and event rental collections, visit www.cortevents.com.
This story originally appeared in the November/December 2019 issue of Exhibit City News, p. 48. For original layout, visit https://issuu.com/exhibitcitynews/docs/ecntears_novdec_2019_copy