Mid-July began the official three-month countdown to IMEX Challenge 2014, a call to action for meetings and events industry members to implement corporate social responsibility initiatives.
The IMEX Challenge is a biennial humanitarian event designed to make a positive and lasting impact on the local communities where IMEX tradeshows take place. Staff from IMEX America, Sands Expo, The Venetian and The Palazzo Las Vegas gathered at The Shade Tree shelter in Las Vegas to mark the countdown.
The beneficiary for the 2014 program is Las Vegas's Shade Tree Shelter for homeless and abused women, their children and pets — an organization IMEX has actively supported since the inaugural IMEX America in 2011.
"This is such a worthwhile Las Vegas cause, and we are incredibly grateful for the support of our sponsors who have put in so much time, energy and resource to making it happen. Now all we have to do is create a willing team of enthusiastic volunteers to bring the new garden vision to life. I have a feeling this is going to be an incredible experience for everyone who gets involved," stated Dale Hudson, director of Knowledge and Events, IMEX Group.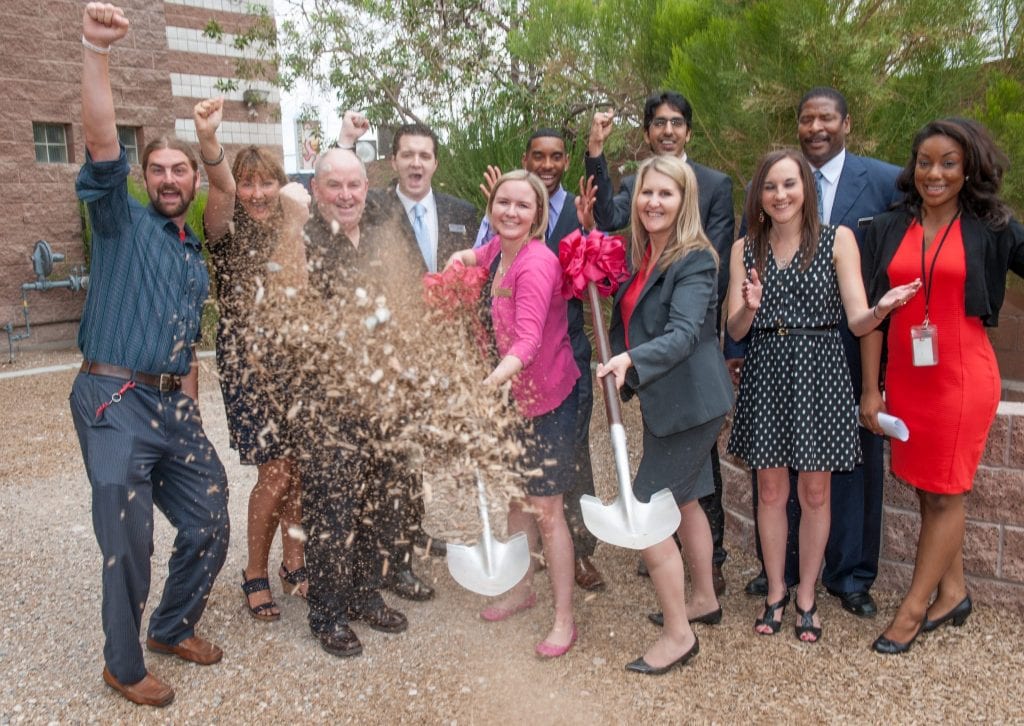 Once it became clear the shelter needed help updating its garden and outside spaces, IMEX saw the opportunity to make fulfilling this wish its next IMEX Challenge. The hands-on, helping event is scheduled for Oct. 11-12, the weekend before IMEX America opens. For the Challenge to succeed, IMEX and its partners are asking meetings and events industry professionals to roll up their sleeves and sign up to work one four-hour shift during the weekend.
One of The Shade Tree shelter residents and garden visitors summed up the importance of the existing gardens by saying "The Healing Garden has always been a place where I've had great thoughts and made sound decisions for my future. It's a peaceful, tranquil and lovely space for anyone to hangout and relax."
To make the updated gardens a reality, Sands Cares, the charitable arm of the Las Vegas Sands Corp., and general contractor Global Experience Specialists (GES) have joined IMEX in the Challenge as Host Sponsors and active participants.
A multi-disciplinary team from Sands Cares has already provided expert help in designing and creating detailed plans for the new garden as well as donating all of the plants. They will also direct the planting during the Challenge. GES has donated a variety of materials including secure storage sheds for children's toys and gardening equipment. Hosts Global Alliance are also confirmed as a Silver Sponsor.
Las-Vegas based music and team-building company, Song Division is also donating time to work with the Shade Tree women and children to write and record songs about their experiences, hopes and dreams, adding another memorable healing element to the Challenge.
Both individual and company sponsorships are still available with participating sponsor places start at just $150. To learn more, visit http://www.imexamerica.com/about-us/imex-challenge/.