From Ride Activations and Supercars to Flying Car Displays and Kids' Activities
Imagine climbing a "mountain" in a vehicle and nearly touching the rafters of Huntington Place, or seeing a flying car display that brings science fiction to reality.  Picture a collection of some of the world's most exotic cars all in one place, or watching your tot put the pedal to the metal in a pint-sized SUV on a kid-friendly course.  These displays and activations, and much more, will be featured at the Detroit Auto Show, Sept. 16 – 24, at Huntington Place in Detroit.
Tickets for the Detroit Auto Show are available at naias.com/buy-tickets.  Adult tickets are $20 each, with special ticket pricing for Seniors (65+) at $12 and children (ages 3-12) at $10.
Here's some highlights of what's in store for the nine-day Public Show:
Experience the Electricity of the New Indoor Track
The new Powering Michigan EV Experience indoor track will give show-goers an exhilarating experience in multiple EV brands on a serpentine track featuring a 300-foot acceleration lane.  The ride-along activation is sponsored by the Powering Michigan team of International Brotherhood of Electrical Workers (IBEW) Local 58 and the National Electrical Contractors Association (NECA). The Powering Michigan EV Learning Center will provide visitors with an educational overview of the EV charging process and procedures with real-life demonstrations.
Climb the Mountains, Go Off-Roading
Together with a professional driver, show attendees can go off-roading or climb a mountain without ever leaving Huntington Place. Camp Jeep returns to the Detroit Auto Show this year with new elements, including the tallest and steepest Jeep Mountain in Detroit Auto Show history.  Ram Truck Territory also returns to the show and features a 30,000-square-foot ultimate in-truck adventure, which demonstrates the power and capabilities of the Ram Truck brand vehicle lineup.  Ford's Built Wild track experience offers show visitors the thrill of the climb up Bronco Mountain with its 38-degree slope.
Camp Jeep Kids' Zone
For the first time at the Detroit Auto Show, the Jeep brand will feature a kids' course where kids can drive their own Jeep 4xe Power Wheels.  This new Camp Jeep Kids' Zone will feature a 26-foot climbing wall for adventure enthusiasts.
Exotic and Luxury Showcase
A collection of some of the most prestigious automotive marques in the world will be on display as part of the show's new Exotic and Luxury Showcase.  A magnet for supercar enthusiasts, the area will be open throughout the duration of the show.
An Epic Family Road Trip
Attendees will have a chance to see the four vintage wagons — 1955 Ford Fairlane Country, 1957 Chevy Nomad,1984 Chevy Caprice wagon and 1989 Ford Crown Vic Country Squire — that traveled more than 2,000 miles and over five states as part of The Drive Home: Great American Family Road Trip.Recreating an epic family road trip, the "wagon train" made its way from Jackson Hole, Wyo., to the Detroit Auto Show.  The vehicles will be on display near the Food Court on the show floor. The Drive Home is presented by America's Automotive Trust, a nonprofit dedicated to America's automotive heritage.

Purchase a Chance to Win a Vehicle
Show-goers 18 years or older can purchase a chance to win their choice of a 2023 Chevrolet Corvette, 2023 Ford Bronco Raptor or 2023 Jeep Grand Wagoneer as part of the Detroit Auto Dealers Association Education Foundation's Official Vehicle Raffle (License #R71260). Tickets will be available onsite throughout the show with the winner announced on Sunday, Sept. 24. See complete Vehicle Raffle rules at 2023 Detroit Auto Show Vehicle Raffle Official House Rules – North American International Detroit Auto Show (naias.com).
Get Immersed in Vehicle Safety Education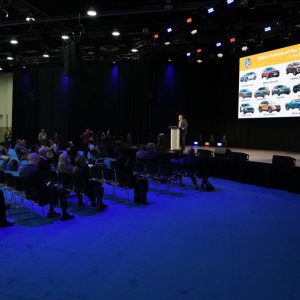 With the generous support of General Motors, safe driving and distracted and impaired driving awareness will be featured in the Vehicle Safety Zone located in the concourse.  Show-goers can experience what it's like to be impaired or distracted behind the wheel through a driving simulator at the Detroit Auto Dealers Association's Courageous Persuaders booth in partnership with Wayne State University.

See the Future of Personal Mobility
Show audiences will get a chance to experience what it's like to "fly" in the cockpit of AIR ONE by way of an exciting virtual reality simulator utilizing the same software pilots use to train. The sporty two-seater electric vertical take-off and landing vehicle (eVTOL) from Israeli company AIR will be on display on the main show floor through Saturday, Sept. 23.  The "Model A" from Alef Aeronautics, a vehicle the company describes as "the first real flying car in history," will be on display in the Exotic and Luxury Showcase.
Take a Survey, Enter to Win a Prize
Attendees who participate in a student survey being conducted by Wayne State University's sociology department in partnership with the Detroit Auto Show will be eligible to win one of three $500 VISA gift cards.  QR codes will be posted throughout the show inviting visitors to participate.  The survey is designed to gather information on demographics of auto show audiences for internal use. Students are responsible for all aspects of the survey to provide a real-world application of their studies.
A Spotlight on Conservation
The Nature Conservancy will be spreading its message to show visitors about the more than 900 beautiful nature preserves in the United States, including over 35 preserves and reserves in Michigan. The concourse display will be a fun place for kids, complete with ride-on electric cars and toys for toddlers.
Concourse Kids' Activities
From ride-on cars to children's games, the concourse will feature a kids' activity zone from The Kids Car Club for youngsters ages 2-7.  The area will be available on weekends during the Public Show.  Tickets are available for purchase for the activities.
For more things to see and do in Detroit after a day at the Detroit Auto Show, check out Visit Detroit at www.visitdetroit.com.

ABOUT THE DETROIT AUTO SHOW:
The Detroit Auto Show is one of the most influential annual automotive events in the world and a showcase for emerging technologies.  The iconic show features brand-defining vehicles, product ride-and-drives and dynamic experiential activations.  The event includes: Media Day, an opportunity for automakers and industry suppliers to debut new products and technologies; Technology Days, a chance to preview emerging mobility technologies and engage with innovators; Mobility Global Forum, a two-day symposium on mobility trends and new technologies; AutoMobili-D, an inside look at future mobility platforms; Charity Preview, a signature fundraising gala for children's charities; and the Public Show, a nine-day mobility and community celebration.  For more information, visit naias.com.