ECN was proud to welcome more than 100 guests to an open house we held on November 3 after EXHIBITORLIVE ended. Attendees described the party as "epic" — some people who flew into Vegas for the show changed their flights just so they could stay long enough to have some beer and barbecue with us.
Special shout-out to Maria Ramirez, director of housing for  Informa; Laren Fernandez, marketing manager for Fortem International; Merlin Sarmiento, Las Vegas Convention Services manager; Nicole Unger, vice president of sales for Alliance Exposition Services; Joe Castellano, president of Color Reflections; Shawn Garrity, CEO of Circle and Chris Griffin of Crew XP for taking time out of their super busy schedules to come and support us.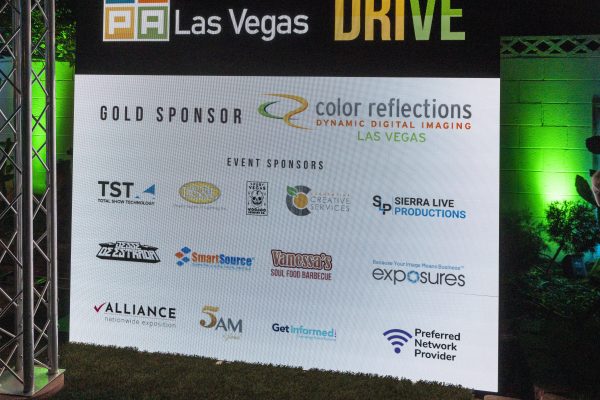 And, of course, we want to thank our sponsors who helped make our dream of this fabulous and fun event a reality:
Color Reflections Gold Sponsor: A nationwide digital printing solutions company that provides a quick turnaround, highest quality direct color reproduction, utilizing cutting-edge materials. Color Reflections continues to invest in the latest technology to produce the highest quality large format digital graphics for trade show displays in the form of banners, posters, vehicle wraps, wall wraps, flyers, brochures and much much more. crvegas.com
Preferred Network Providers: Suppliers of fast, reliable internet services for events, large and small, indoor and outdoor. preferrednetworkprovider.com
Alliance Expo: A full exhibit house supplying exhibitors with design concept build and install. Alliance is a strategically built group of veteran industry team members who operate in a progressive work environment known as R.O.W.E. (Results Only Work Environment). alliance-exposition.com
5AM Global: A strategic marketing and business management firm, committed to accelerating the exponential revenue generation of companies and brands. They deliver innovative operational solutions and the most effective and impactful growth strategies and execution; including branding, PR and event production. 5amglobal.com
SmartSource: A premier provider of tech solutions for event and IT professionals . They provide 24/7 on-site support to in person and hybrid events. thesmartsource.com
Voodoo Brewing Company: Brand new hot spot in the Arts District featuring craft beers, upscale pub fare and an inviting, fun relaxing atmosphere. voodoobrewery.com
Sierra Live Productions: A full-service nationwide production company based in Las Vegas. They specialize in all areas of production, audio, video, lighting and LED walls. They can help plan events from inception to implementation. Their staff consists of professionals with more than 40 years of combined experience in the AV production field. sierraliveproductions.com
Ms. Lucille's Soul Food BBQ: Serving up amazing soul food for events in Las Vegas for more than 10 years! No event is too large for this crew! Call Chef Thomas 510-401-7001
Clementine Creative Services: This group can support your in-house design team with overflow or be your "in-house" design team. They will design based on your inventory or recommend industry standard products such as Aluvision, Octanorm, BeMatrix, Brumark flooring, AFR furniture, etc. Their design team consists of experts in large format printing, I&D, custom fabrication and logistics. clementinecs.com
Exposures LTD: Exposures serves exhibit and event designers and builders in every major city throughout the USA. Great exposure is what you get when you leverage nearly four decades of experience with a fresh point of view and unlimited creativity on every shot. Call 866.359.4493 or email us for a free, no-obligation estimate today. exposuresltd.com
DS&L: DS&L has been delivering innovation, quality lighting and supply with a 1st class customer experience and lighting design for 42 years. With substantial on-hand inventory, DS&L is prepared to meet your needs on short notice. dslgroup.com
TST: The total show production solution for anyone who hosts, plans or produces events, meetings and tradeshows nationwide. TST has provided audio, video, lighting, staging and equipment rental for tradeshows, corporate events and live events since 1996. totalshowtech.com
Jesse Estrada: Jesse has been providing live entertainment for events, tradeshows, and the hottest nightclubs in Vegas and LA. jesseofestrada@gmail.com
Thanks to all who attended. We can't wait to see you again!