Edlen Electrical Exhibition Services, the nation's largest independent temporary electrical contractor to the convention and tradeshow industry, is pleased to announce a new addition to its Chicago office.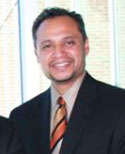 Edlen has hired Jorge Mazzarri for its Chicago office as general manager. Mazzarri comes to Edlen with nearly 30 years of tradeshow experience, starting his career at Navy Pier while attending Northeastern University.  After 20 years at Navy Pier, he became the assistant director of event management in 2005, followed by director of event management in July of that year. 
Born in Peru, Mazzarri is bilingual and can read and write fluently in Spanish. He served as the Hispanic spokesperson for Navy Pier as well as appearing on Hispanic news stations throughout his tenure as director. Mazzarri is a longtime member of the International Association of Exhibitions and Events and the International Association of Venue Managers.