Over the last few months, tradeshow and exhibition companies have introduced a number of new products and services to the industry. This merchandise ranges from mobile charging stations to online analysis services to custom-sized snap rails.


Cvent launches destination guide
Cvent, a cloud-based provider of event management, venue selection and web survey solutions, recently announced major upgrades to the Cvent Destination Guide website. The website is a destination-specific, free online travel guide designed for meeting planners. The resource features 6,000 pages of in-depth research on more than 600 destinations worldwide.
"Cvent has been working closely with our destination partners to make the Cvent Destination Guide the premier resource for meeting and event planners who are researching locations for their next event," said Eric Eden, vice president of marketing for Cvent. "As we continue to develop the guide to cover over 1,000 destinations by the end of this year, the new features and content on our site will greatly benefit planners."
Cvent also introduced a mobile-friendly online registration and event website, which gives planners the ability to easily optimize their event's electronic presence for mobile devices.
"Cvent's mobile-friendly event registration offering is the most comprehensive and flexible solution to hit the market to date," said David Quattrone, chief technology officer for Cvent. "This addition will enhance each attendee's user experience and make it seamless for them to register for events using a mobile device."
GoCharge expands line of mobile charging stations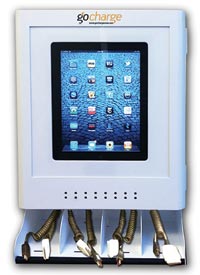 GoCharge, a provider of mobile device charging solutions, has introduced an expanded line of mobile device charging kiosks that caters to the tradeshow industry. The expanded lineup of mobile charging models are designed to provide a much needed service to attendees and a powerful new revenue stream and sponsorship vehicle for organizers.
"We listened very closely to our customers and have designed our newest model, The Orion, to meet the specific needs and requests of this industry," said David Walke, CEO of goCharge.
The Orion is designed to fit in the tight spaces in exhibits and sponsorship booths.
"Exhibitors and sponsors value goCharge because it helps to drive significant traffic to their booths and attract a captive audience," said Scott Gurfein, chief revenue officer of goCharge. "During a long day at a conference, a quick and convenient charge has a significantly higher value than standard swag items like a pen or candy."
Orbus announces new products
Orbus Exhibit & Display Group recently announced the addition of more than 40 new tradeshow, exhibit and display products.
"We strive to provide new solutions as well as make continuous enhancements to existing products to ensure our clients are positioned to lead our ever-changing industry," said Giles Douglas, president and CEO of Orbus.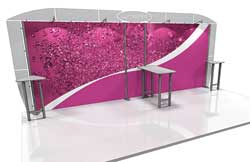 One of the products Orbus recently released is the Backlit Hopup, which is a tension fabric display that is illuminated to help make any graphic stand out. Orbus offers full kits with hardware and graphics as well as hardware and graphic-only options for the Hopup.
Orbus also introduced a new series of Linear Standard and Pro 10-foot and 20-foot exhibit kits. The extrusion-based exhibits feature new Velcro-applied fabric graphics, which are easy to apply and assemble. Headers and wings are available in printed graphics or frosted plex. Kits also come with lights and durable storage cases. Customized units are also available.
Other new products launched by Orbus include the Blade Lite series of retractable banner stands, a new series of linear monitor kiosks and a new line of linear tabletop displays that features tension fabric center graphics.
These products appear in the recently released first edition of the company's 2012 product catalog, The Exhibitors' Handbook.
ITN International creates new browser for leads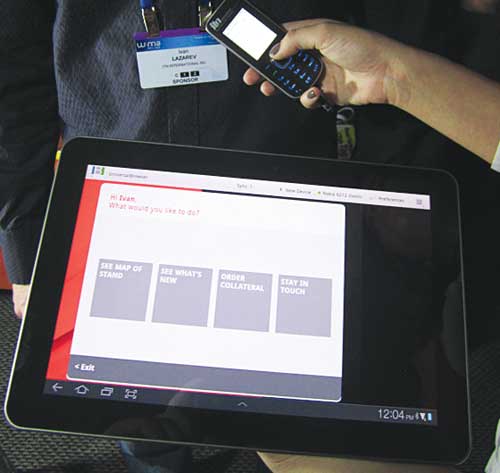 ITN International has created an Android browser that supports lead capture and retrieval with any Web-based lead management system, freeing an exhibitor to focus on integrating lead data with its customer relationship management (CRM) system.
The BCARD Reader Browser for Android will be introduced at EXHIBITOR2012.
The BCARD Reader runs on any Android tablet and can be used with any web-based lead management system at any event.
Once a badge is scanned, the BCARD Reader automatically launches a Web application and populates that application with data from the badge.
"With this new product, we're helping exhibitors move to real-time CRM integration of their event leads," said Ivan Lazarev, president and CEO of ITN International. "Until now, real-time CRM integration wasn't feasible. A gap existed, due to the incompatibility of the various lead retrieval systems with any given exhibitor's CRM. BCARD Reader Browser for Android bridges that gap."
BCARD Reader Browser for Android can be licensed by the exhibitor for one-time use at any event or licensed annually on a per-tablet basis for all events.
Punch Visual concepts debuts the Cube
Punch Visual Concepts, a full-service exhibit company, recently introduced The Cube, a scalable, lightweight system that is flexible in both size and configuration. The booth system was designed to facilitate usage in popular sizes from 10-by-10 to 10-by-30.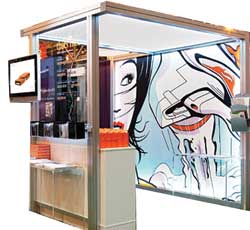 The Cube offers a wide range of customizable backlit graphic areas, large computer monitors and open meeting areas while optimizing the opportunity to engage trade show attendees
The Cube is built with aluminum space frames and wrinkle-free, tri-polymer surface fabric. LED and T4 lighting to highlight graphics or specific areas of the both system are also available. The total weight of the system, depending on the booth size, ranges from 100-400 lbs.
A first-time set-up training video is available from Punch and turnkey services are also optional.
SignPro Systems announces new product lines
SignPro Systems, a wayfinding and architectural signage division of the Orbus Exhibit & Display Group, recently announced the addition of four new product lines and over 90 new products in Volume 3 of its catalog, The Sign Maker's Handbook. Here are a few of the recently introduced products: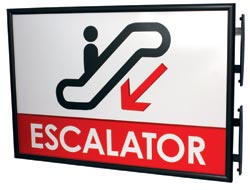 SignPro's double-sided Projecting Snap Frames provide direction or information and are available in a wide range of sizes and the spring-loaded edges allow easy graphic changes.
The custom-sized Snap Rails permit a variety of wall mounted posters and signs in multiple sizes. The Snap Rail combines two custom-length spring-loaded snap rai
ls with a backer and a clear non-glare protective lens
The SignPro Snapper Stand is a snap-open frame mounted on a silver aluminum stand. The Snapper Stand serves as a podium for any signage or display.
"Providing new signage opportunities to our clients is what we strive for," said Julien Aiglon, SignPro Systems Division Manager. "The introduction of four new product lines and over 90 new products will help us meet the needs and demands of our growing network."
marketech360 to showcase ROI measurement tool
Set for unveiling at EXHIBITOR2012, "Dashboard Made Easy" is an easy-to-use and affordable measurement tool from marketech360 that helps exhibitors identify and communicate the value and results they deliver from their exhibiting program.
Recognized as part of the EXHIBITOR2012 New Product Showcase and eligible for this year's Buyers' Choice Award, "Dashboard Made Easy" measures everything from cost per contact and cost per lead to cost per person reached through hospitality events and cost per impression for sponsorships. This latest offering from marketech360 will be available for purchase at EXHIBITOR2012 or online through the marketech360 web site. The cost is $1,500, plus a $20 per year hosting fee.
"The great thing about 'Dashboard Made Easy' is that it puts the exhibit professional in complete control of their performance metrics," said Marc Goldberg, founder and partner for marketech360. "The user decides what metrics to track and then conducts the measurement, inputs the data, and completes the metric calculations with the click of a mouse."
nParallel and Avtex launch customer experience solutions
nParallel and Avtex recently co-created an interactive technology solution for brand marketers to energize engagement with attendees at tradeshows and retail settings. The companies are blending digital technology with traditional physical displays to create dynamic, interactive and personalized brand experiences.
"Social media, Web marketing and mobile technology have transformed buyers' expectations," said Eric Raarup, chief marketing officer for Avtex. "They want every touch point with a brand to be on their own terms. The challenge for brand marketers and customer experience professionals is to fulfill these new demands in traditional venues like store aisles, show floors and corporate lobbies."
One of the first applications is a tradeshow display designed by nParallel for SAGE Electrochromics, Inc. The interactive SageGlass project portfolio enables tradeshow attendees to experience the dynamic nature of SageGlass, which electronically tints windows on demand.