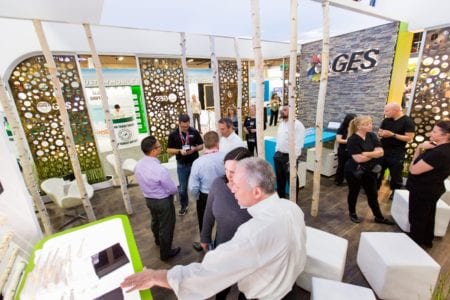 EXHIBITORLIVE 2017 is in the books, officially ending on Thursday, March 16. Suffice it to say a wonderful, educational and productive time was had by all.
A magazine ourselves, Exhibit City News recognizes Exhibitor magazine's commitment and contribution to the tradeshow industry through its tradeshow success and informative publication. As such, we rightly featured EXHIBITORLIVE on the cover of our current publication.
And for the full follow-up story, look to the next issue of ECN, including many of the top exhibitors and all of the major award-winners. In the meantime, ECN would like to take this opportunity to acknowledge those who made our EXHIBITORLIVE experience memorable, educational and productive. And fun.
Both Czarnowsi and Hamilton were celebrating the milestones of 70 years (thanks for the champagne, Kaylee, and cocktails, Jim), while Elite Expo (with a block party theme) celebrated their 30th Anniversary and The Inside Track (with their cool, new product of lava lamp-like floor tiles) celebrated their 20th.
Where else but at Nomadic Display could you find live lady-painting and a free coloring book, Taryn? And what is the big news coming from A&P Flooring Systems, Sam? Did you collect enough cards to win a cool skateboard from Guy at Highway 85 Creative? Did you get a rest and a hand massage at the spa-like booth of GES (see photo at top; thanks, Detra)? Who was the voice of the robot at Creative Impact Group's booth, Joanne? Who won the battle of the lemonade between Zig Zibits and ACCESSTCA, Tierney and Maddie? And just how good is the taste of McCormick Place Ale, Michele of MG Design? The answers to all these important questions may or may not be revealed in the next edition of ECN. Like can I convince Mike of Coastal International to write a gossip column for us. Well, you'll just have to wait and see.
It was nice seeing my mentor from EDPA Access, the level-headed Jay Burkette of Expo Displays. Thanks, C.J. Berg and Joe Martillaro of Champion Logistics Group, for the tee-shirt and the cariacatures (did you know they were the Tradeshow Trucking Co. of the Year?), and to ASTOUND and John Saltonstall for my new I Heart Trade Shows mug (had to love their astounding rotating city lights exhibit). The interactive tradeshow personality profiles from the woman-owned Mirror Show Management was cool, too. Thanks, President Donna Shultz.
There are really too many old and new friends to mention here, so forgive me to those I leave out, but I'll try: so hello to Garry Koralek and Richard Osicka of Abex Exhibits, Roman Moszkawicz of Prism Tradeshow Lighting, Tim Lemery of Creatacor, Terry Burke at Brumark, Rosemarie Libertelli of TWI Group, Brent Reierson of Skyline Exhibits, Jeff Mitchell of Octanorm, President Bob Dobinski of Corporate Communications, Inc., CEO Justin Hersh of Group Delphi, Painters and Allied Trades' Davids Henderson and Stvartak, Brad Samelko and Holly O'Hair of Tectonics (never did see Tony Helfman), T3 Expo's Marixa Pacheco, Lauren Wheeler form Bematrix (look for their Partner Training pictorial in ECN's next issue), John Marks of Step 1 Dezigns, James Sharpe of Classic Exhibits, Amy Connery and Kelsey Miner of Hill & Partners, the CORT crew of Strategic Account managers Kevin Nute, Derek Argo, Victoria Shelton and Gloria Collins (love their little red chair cell phone holders), Kaon Interactive VP of Markeing Dana Drissel, Exhibitus' Tim McSwiney, GM Michael Mulry of On Location, VP Chris Esposito of Totally Mod, and, of course, Amadeus Finlay and Dawn Marie Raczka of BlueHive. Whew! Apologies to those I have inadvertently left out …
But, hopefully, somewhere along the line, you'll see articles on just about everyone mentioned here, if you haven't already. I think what I mean to say is that the experience of EXHIBITORLIVE is really all about relationships, old and new. Just like life itself. –Arthur Bloberger, editor, Exhibit City News