Experient, a source for integrated meeting and event solutions, hosted its annual charity event — the 6th Annual Pack for Impact in Denver on July 23.
The company achieved donations of $7,180 for Food Bank of the Rockies' Kids Cafe program and Totes of Hope – Children. The Kids Cafe and Totes of Hope – Children programs were designed to serve balanced meals to children throughout the Denver metropolitan community. Every Friday, the Food Bank gives the children participating in Totes of Hope a pack of food to take home, so they have something to eat over the weekend.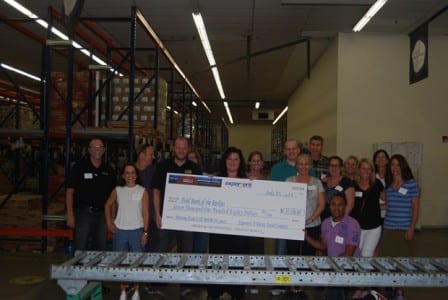 "We greatly value our long-term partnership with Experient," said Kim Ruotsala, chief development officer, Food Bank of the Rockies. "For 16 years, they've helped us make a positive impact on children along the Front Range, and we are grateful for their generosity."
Experient's Director of Strategic Account Management Yurii Land, CMP, has chaired and emceed the event for the last six years. He and his co-workers, who used sponsorship dollars to purchase the food, were joined by more than 40 Experient clients, hotel and supplier partners who packed 1,800 bags of food in less than 90 minutes—a six-year record.
"We appreciate the support we receive from our industry patrons and clients who donate their time and money to such a worthy cause," said Land. "We are thrilled to have contributed more than $114,000 to the program during our 16-year relationship."
A complete list of all sponsoring organizations from the event can be found here.
For more information on any of the Food Bank of the Rockies programs, visit http://www.foodbankrockies.org/programs/programs-for-children.
To participate as a sponsor in next year's Experient Pack for Impact event or to donate leftover conference bags, contact Yurii Land at 303-362-0903 or via email at yurii.land@experient-inc.com.