The International Association of Exhibitions and Events (IAEE), the world's largest association of the exhibitions and events industry, reported that Expo! Expo! IAEE's Annual Meeting & Exhibition held Dec. 9-11, 2014 in Los Angeles yielded higher attendance than in 2013, according to an independent attendance verification audit conducted by Exhibit Surveys Inc.
The audit was conducted in compliance with the requirements of attendance audits promulgated by the Exhibition and Event Industry Audit Commission (EEIAC).
Key statistics comparing Expo! Expo! 2014 to the 2013 event reflect that:
Overall attendance increased by 15 percent in 2014 from 1,934 to 2,225
Attendees from outside of North America more than doubled, from 39 to 85
First-time attendees increased 51.7 percent from 348 to 528
The total number of attendees (those not exhibiting) increased 15 percent from 1,217 to 1,400
The total number of attendees representing high level executives within their organization increased 10.6 percent from 273 to 302 (position titles include Owner, President/CEO/Executive and Senior Executive – CFO/COO/CMO/EVP).
Net square footage of largest event of exhibition organizers:
10,000 to 50,000 NSF = 138
50,000 to 100,000 NSF = 142
100,001 to 250,000 NSF = 147
More than 250,000 NSF = 384
"We are extremely pleased with the outcome of Expo! Expo! IAEE's Annual Meeting & Exhibition 2014 in Los Angeles, especially with the increases to our international and first-time attendance," noted IAEE President & CEO David DuBois, CMP, CAE, FASAE, CTA. "As part of our ongoing strategic plan, we have focused on advocacy and education on an international level and these numbers reflect that. An increase in first-time attendees is a sign of a strong organization and a robust overall industry."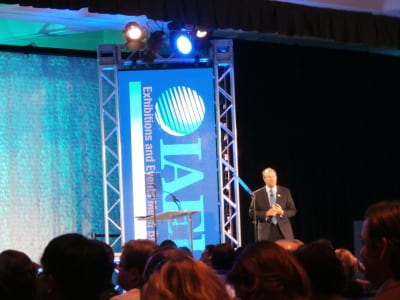 An exhibition and event audit provides an objective review by an independent and certified auditor of registration data, including interviews, to objectively confirm actual total attendance. Independent audits ensure confidence and consistency in the numbers reported by the show organizer, and help in the planning and budgeting process of an exhibition or event.
IAEE highly encourages its members to participate in independent audits and implement them into their ongoing business practices. For more information about independent exhibition and event audits, visit www.exhibitionaudits.org.
Download
http://www.iaee.com/downloads/1423591052.18895400_e49c569876/IAEE%20Expo%20Expo%202014%20Audit%20Report.pdf