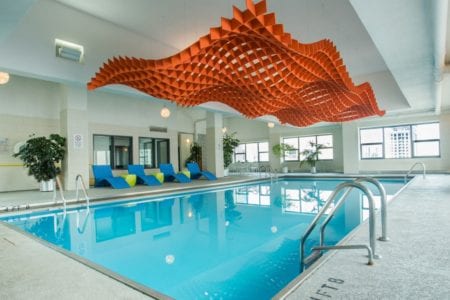 Fabric Images, Inc., a global manufacturer of printed and non-printed tension fabric architectural solutions, was honored with the "Award of Excellence for Commercial Interiors" and "Best in Category for Fabric Environments" for their Acoustical Ceiling Cloud at the Industrial Fabrics Association International Achievement Awards on Sept. 28. The awards were announced during the annual conference in New Orleans, La.
Partnering with 4orm Studio for this Chicago, Ill., installation, Fabric Images developed the acoustical canopy to capture the concept of fluid motion and energy. Using the Hatch offering style developed by the Fabric Images, Inc. design team, the canopy was customized to the 15 ft. x 30 ft. footprint and undulating form. It serves two purposes:
The canopy offers the space a visual contrast of form and color. The grid design plays with the ambient lighting and offers variation from light to dark.
Made with ezoBord acoustical material, the canopy acts as an acoustical sponge. The soft density of the material, combined with the cellular design reduces noise by 60 percent and increases speech clarity.
David Pinson, innovation specialist at 4orm Studio, explains, "We explored many options before presenting the final choices to our client. Not only did the Hatch canopy reflect our vision, but more importantly it addressed the sound attenuation that the space so desperately needed. The entire FI team went above and beyond to help us meet our deadlines and exceed our client's expectations."
This is Fabric Images' third consecutive year being awarded in the Industrial Fabrics Association International Achievement Awards.
The International Achievement Awards are an annual competition with a goal to promote awareness of the specialty fabrics used in thousands of products and applications ranging in size and shape. For more than 70 years, the awards have recognized innovation, technical skill and design excellence. Entries are judged by industry experts, editors, architects, educators and design professionals who are selected for their knowledge in particular field of study or product area.
Since 1992, Fabric Images, Inc., has been a premier supplier for fabricating and printing of tensioned fabric architecture for the retail, museum, architectural and exhibit design communities. FI is a family-owned and minority-operated business. They are a leading manufacturer of lightweight, digitally printed fabric tension structures. For more info, visit www.fabricimages.com or for the full article, visit http://blendconcepts.com/2016/12/acoustical-canopy-reimagines-pool-deck/