BILD Print Media, by Better Life Technology, which offers completely customizable, multi-use print media solutions, has changed its name from G-Floor Graphics. The Kansas-based company can print any image on its material and it can adhere to any surface, by providing an array of marketing and branding applications to build an image with lasting durability.

The company cites the benefits of its product as including: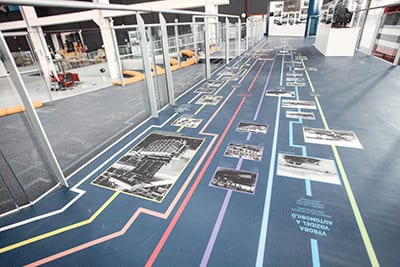 100 percent polyvinyl, no fillers

Can be used for short-term or long-term solutions

Built to withstand heavy foot traffic

Waterproof and slip-resistant

Easy to remove, reposition and reuse

Easy to clean

Customizable to fit every need

Multiple thickness options available (35 mil, 75 mil, 85 mil)

Free Floating, Wall to Wall and temporary applications are available

Indoor and Outdoor use options

Can be used without adhesive
A number of unusual specialty applications are available also, such as images that can be installed on the bottom of a pool or fountain.  
Better Life Technology, LLC, is the leading innovator and manufacturer of top quality, 100 percent solid polyvinyl flooring solutions for residential, commercial and OEM applications. G-Floor became the Gold Standard for garages and their ground-breaking, solid polyvinyl product, so easy to install and maintain, can now be found covering the halls and walls of educational, healthcare, modular, recreational facilities and more. Their flooring and promotional signage enhances retail establishments, kennels, mobile vehicles, and beyond. Their high performance G-Floor Universal Flooring, AquaTread Marine Flooring and BILD Print Media deliver individuals, small businesses, corporations, fleet owners, marketers and others, the most reliable polyvinyl solutions at exceptional value. For more info, visit bltllc.com.