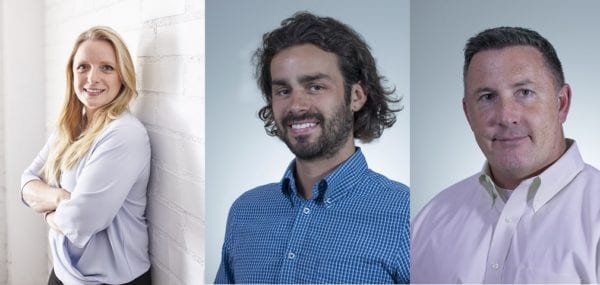 GES, a global full-service provider for live events, announced that Valerie Carstens (above left), Kiel Jared (center) and Val Gardner (right) have joined its Corporate Marketing team. As part of its global growth strategy, GES has increased its focus on corporate marketing with an emphasis on modern marketing and leveraging technology to create a seamless customer experience.
Carstens joins GES with more than 20 years of experience in integrated marketing, corporate communications and branding. With considerable experience in technology and insurance sectors, she has led communication and branding efforts through a number of major acquisitions and corporate realignments. Most recently she was the owner of Carstens & Company, a firm specializing in marketing communications for B2B companies. In her role as vice president of Branding and Corporate Communications, Carstens works in partnership with the marketing team and leadership to enhance GES' global brand presence.
Jared's more than 15 years of marketing experience includes user experience design, technology, and thought leadership to deliver web-based marketing solutions. As director of Digital Marketing at GES, Jared works collaboratively with design and technical teams to ensure measurable results are delivered.  Jared's professional experience includes leading digital strategy, web development, UX and creative at Universal Laser Systems and Mitel. Gardner is a marketing strategist and analyst, leading strategic product and solution initiatives from concept through to scalable solutions. As director of Global Marketing Operations, Gardner ensures planned results in programs, budgets and schedules. Prior to joining GES, Gardner led channel and demand generation at Mitel and demand generation and global marketing operations at Alcatel-Lucent Enterprise.
"The addition of Valerie, Kiel and Val further strengthens GES' team of modern marketers," said GES Executive Vice President of Global Marketing, Wendy Gibson. "They are proven marketing leaders with the experience needed to support GES' strategic growth."
The new appointments are based in GES' Irving/Dallas client care center and report to Gibson. GES, a Viad Corp (NYSE: VVI) company, produces corporate events, exhibitions, conferences, congresses, exhibits and entertainment experiences and provides a wide-range of services, including official show services, audio visual, cutting-edge creative and design, marketing and measurement services, and event accommodations. For more information visit www.ges.com.