UFI, the global association of the exhibition industry, kicked off its 80th Congress by announcing that Global Experience Specialists (GES) has become a UFI Diamond Sponsor for a one-year period beginning at its current event in Seoul.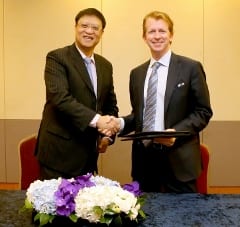 "We are delighted to announce that GES has become one of a very limited number of UFI Diamond Sponsors," said Chen Xianjin, president, UFI. "With operations and successful client projects throughout the Americas, Europe, Asia and the Middle East, the international profile of GES matches perfectly with that of UFI."
The Diamond Sponsorship package will provide GES with networking potential throughout the UFI international community, supporting GES' plans to further strengthen its worldwide events business, reaching UFI's network of exhibition industry decision-makers in 85 countries around the world.
"GES has been an active member of UFI since 2010 and we have always found our membership and activity at UFI's events to be an important component of our business development efforts. This is the global forum where show organizers, venues and suppliers all come together to make great events happen," said Jason Popp, executive vice president – International, GES. "GES has many long term relationships with UFI members on each continent. We will use this new partnership to amplify our involvement in supporting UFI's global mission."
GES joins the Kuwait International Fair and Thailand Convention & Exhibition Bureau in this UFI sponsorship category and will enjoy a strong presence at UFI events in Bangalore.