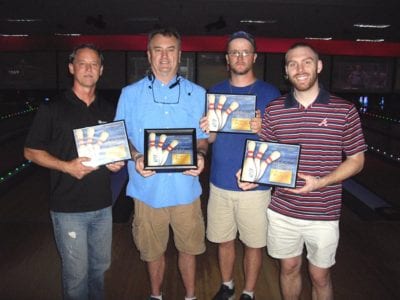 The 10th Annual "Get Out of the Gutter for a Good Cause" took place on Thursday, Aug 25, at the Bowlmor Lanes in Atlanta, Ga., sponsored by the South East EDPA Chapter.
The biggest year ever for the event, a total of more than $61,000 has been raised over the last 10 years to benefit the Randy Smith Memorial Golf Classic, taking place this year on Friday, October 7, at Chateau Elan in Braselton, Ga. – http://www.rsmgc.org/
Congratulations are in order to tournament winner WS Displays (photo top right), winning in the 4th round with 610 vs. Cort's 586 (photo below center)!
The Team Spirit award went to Exhibitus this year (photo at bottom)! And a huge shout out goes to Keenan Jung of Nth Degree fame for donating the winnings from the 50/50 raffle back to the fundraising pot! The 50/50 raffle alone raised more than $1,000 the night of the event.
A big THANK-YOU must go to the companies that greatly contributed to making this 10th Anniversary event the biggest year yet:
Button It Up, for providing the photo booth – https://www.buttonitup.com/
Exhibitus, for the winning T-Shirt design – all participants were given a T-Shirt the night of the event to celebrate a decade of good times for a great cause!
ALL of the sponsors for the event:

Platinum

BeMatrix
Blue Sky Exhibits

Gold

Brumark
CDI USA
CORT
DBA
Expotechnik America
MC2
nth degree
PRG
Team Worldwide
Tectonics

Sponsors in Kind

Colorchrome Atlanta
Zenvoid Design

All of the 2016 Chapter Sponsors:

Champion Logistics Group
PRG
Momentum Management
Czarnowski
Brumark
CORT
nth degree
The Inside Track
beMatrix
Stay up to date on all South East EDPA Chapter news and events! Follow them on Facebook at https://www.facebook.com/southeastedpachapter/?ref=bookmarks, Twitter at https://twitter.com/SouthEastEDPA, and LinkedIn at https://www.linkedin.com/groups/2386580. Plus, to really stay on top of things, sign up for an email subscription at http://eepurl.com/bSNP3b.