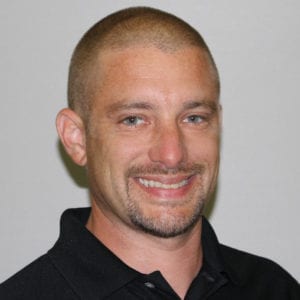 Erich Feist (photo left) has accepted a position as the Manager – Event Technologies at Hamilton Exhibits.
Feist has spent nearly two decades in the audio/visual industry, working everything from 35mm slide projectors to sophisticated concert lighting systems. His work included creating specifications, quotations, layouts and renderings for live events, managing technical staff and overseeing day-to-day operations.
"Our event technology group is a dynamic, growing part of our business, and Erich is the perfect fit for this team. His reputation for hard work, creativity and pleasing his clients fits very well with our culture," said Jason Weddle, VP – Operations at Hamilton.
In his role, Feist will be responsible for Hamilton's growing event technology group, providing A/V equipment, set design, audience interactive and programming work.
Said Feist: "I am really looking forward to being part of this team. I think this is a good fit for me.  I think these guys are on to something here, and I wanted to be a part of it.  I feel that I am just as comfortable in a suit in a conference room as I am in work boots at the end of an 18-hour day."
Hamilton Exhibits, LLC, with headquarters in Indianapolis, brings more than 69 years' experience in designing, fabricating, and managing tradeshow exhibits, environments, and providing program services to companies throughout the U.S. and around the world. Hamilton is known for its highly qualified industry experts and its ability to create real-world, one-to-one experiences of client brands. For more information, visit hamilton-exhibits.com.