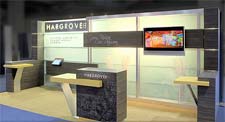 Hargrove is pleased to announce it has been named the general services contractor for the GOVGreen Conference and Exposition taking place at the Walter E. Washington Convention Center November 9-10 later this year.


Hargrove was selected to serve as the general services contractor due to its innovative sustainability program and environmentally friendly show management requirements. In addition, Hargrove offered GOVGreen a unique training program for its exhibitors.
GOVGreen is sponsored by the Center for Environmental Innovation and Leadership (CEIL) and is owned and produced by Robert Harar, who conceived and launched two leading government-focused exhibitions, FOSE and GovSec. GOVGreen brings together federal agencies, contractors and suppliers to learn how to achieve the sustainability goals mandated by Obama's Executive Order 13514.
"Federal agencies are mandated to meet aggressive new environmental standards and managers have a critical need for information about green products and services," said Robert Harar, CEO of CEIL. "We need strong partners at the table to launch the show and ensure its annual growth. During the proposal stage Hargrove demonstrated their own corporate commitment to sustainability in the programs they developed for GOVGreen. We're looking forward to working with them once again."
GOVGreen will focus on the unique needs of government professionals and is exclusively focused on providing a new generation of green education, resources and cooperation. The education is designed specifically for government professionals charged with developing, implementing and/or managing green and sustainable policies and programs, and the exhibit hall is devoted exclusively to green products and solutions. "Our team is extremely excited to be part of this expo given its growth potential," said Tim McGill, CEO of Hargrove, Inc. "We believe there is a great deal of untapped opportunity regarding sustainability in the general contracting world.
Our commitment to GOVGreen is an example of Hargrove's interest in sustainability while expanding our company and helping our clients achieve success."