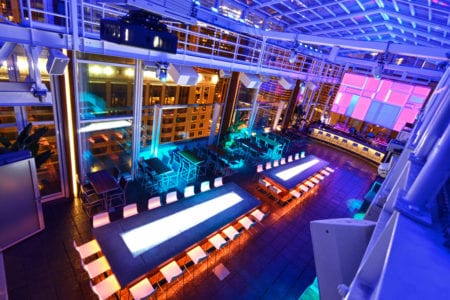 The Healthcare Convention & Exhibitors Association is pleased to announce a partnership with 3D Exhibits to host HCEAConnect VIP Powered by 3D Exhibits.  This event will be the pinnacle social and networking event during the association's annual educational and networking conference, HCEAConnect, taking place August 13 through 16 in Chicago.
HCEAConnect VIP Powered by 3D Exhibits will immerse attendees in music, food, networking and spectacular city views at a premiere Chicago nightlife destination, ROOF (pictured).  The event will be held on Monday, August 14, at ROOF which is located on the 27th floor of the Wit Hotel.
HCEAConnect attendees will experience hospitality, Chicago-style. "Chicago is 3D Exhibits' home, so we're going to demonstrate just how much our city has to offer. Anyone who doesn't love Chicago already is going to love Chicago and 3D Exhibits by the end of the evening," says Nicole Genarella, executive VP of sales and marketing, 3D Exhibits.
"Thanks go to 3D Exhibits for hosting this VIP event.  We know that our HCEAConnect attendees will all be VIPS and enjoy the Chicago night-life because of 3D Exhibits' support.  We are fortunate to have this opportunity as a part of our robust agenda and I for one will not miss it," says Don Schmid, HCEA president.
HCEAConnect gathers the industry's leading healthcare exhibit marketers, medical association meeting and exhibition directors, and exhibit design, creative marketing and convention services companies.  This is their once a year opportunity to garner relevant, quality educational opportunities as well as idea exchange between our three unique member types, corporate, association and industry partner members.
The Healthcare Convention & Exhibitors Association is the only association solely dedicated to improving the effectiveness and promoting the value of all conventions, meetings and exhibitions for the healthcare industry. HCEA represents organizations involved in healthcare exhibitions and conventions.
For more information about HCEA and HCEAConnect, please contact Amy Lotz, CAE, HCEA executive director, at alotz@hcea.org or 703-935-1961 or visit our website at www.hcea.org.