At ECN's press time, 36 companies were listed on ExhibitorLive's website as introducing new products at ExhibitorLive 2021. Here are some highlights.
 Virtual Advances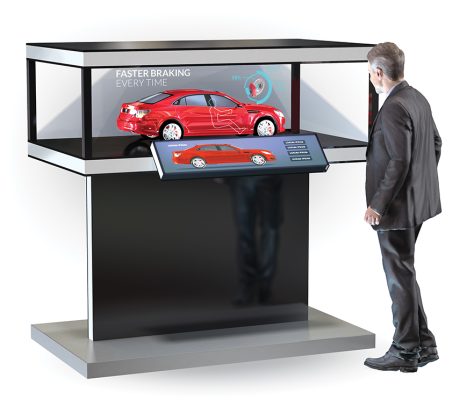 Exhibitry (Booth #1232) is introducing AI-Driven Holographic Avatars, HoloTables and ProductMappers. HoloTube AI features a life-sized animated spokesperson who converses with viewers in plain language to inform customers, present products and explain information. The avatars use the most advanced artificial-intelligence systems available to create a "Siri-like" conversational experience. HoloTable, scalable to showcase products and processes of any size, takes holograms "beyond the box" into an open-air environment and eliminates the bulky cabinets typically associated with holographic projection technology. ProductMapper (pictured right) combines reflective holographic technology, projection mapping, computer-controlled lighting, and multitouch interactivity to put your product samples, scale models, or any object in the middle of the magic by surrounding them with holographic imagery. Exhibitry's experts create the hardware, software, and animated storytelling content, resulting in a near turnkey activation. For more info, visit www.exhibitry.com
PeopleVisionFX is debuting AnimatedReality (Booth #1347), a new technology that allows for holographic elements to be fully integrated within real physical environments. Utilizing the unique PhotonOpticon system for image projection, images can be produced in virtually any size to communicate any story—without needing any special headgear. For more info, visit www.peoplevisionfx.com.
The Magic Window 360 Viewer (Booth #1166) from Fast Effect enables attendees to explore an oversized product, your company's factory and offices, or a stunning natural vista from a small footprint within your exhibit. Users can navigate 3-D objects, photographic panoramas and virtual environments by rotating an interactive touchscreen. An optional augmented-reality function enables virtual content (e.g., text-based product specs) to be displayed over a real-time view of the exhibit. This patent-pending device is available as a complete turnkey solution, from ideation and content development to hardware. For more info, visit www.fasteffect.com.
The BeyondLive virtual-experience platform (Booth #1327) provides virtual attendees richly detailed 3-D environments, an intuitive user interface that fosters discovery, and myriad opportunities to incorporate gamification, demos, chats and more. Marketers can request fully custom experiences or choose from a menu of brandable event templates set in a five-star hotel, a tropical island, a luxe convention center, or an expo hall. For more info, visit www.beyondlivex.com
Inhance Digital's Virtual Exhibit & Event Platform (VEEP) at Booth #1303 creates immersive, 3-D renderings of exhibits and corporate events that are refreshingly realistic with no downloads or plugins necessary. As visitors navigate your virtual world using just a web browser on any device, they see interactive demonstrations, live and prerecorded video content, collaboration spaces in which to video conference with subject-matter experts and sales reps, and more. Meanwhile, marketers benefit from detailed analytics that trace visitors' journeys, integration with numerous customer-relationship management systems, and the ability to incorporate gamification, polling and surveys. For more info, visit www.inhance.com
Visual Plan from EXPOCAD by ACT Inc. (Booth #1448) takes the same premise as Google Street View and applies it to tradeshow floors. Remotely-piloted rovers equipped with 360-degree cameras scour a booth or entire exhibit hall and capture hyper-realistic 3-D images that can be stitched together into an immersive environment. Marketers receive comprehensive virtual walkthroughs of their booths for remote visitors and show organizers can help prospective attendees and exhibitors get a better understanding of a venue. Visual Plan can also be used to extend the life of an event online. For more info, visit www.expocad.com
Zuant 3D (Booth #639) delivers a highly immersive, visual experience, and is the collaborative result of Zuant's partnership with leading 3D scanning company Matterport. The new app features the ability to host unlimited 3D spaces with full visitor tracking, content sharing and a stylish navigation feature called Zuant Black Box. Applications for Zuant 3D are virtually endless, including the ability to extend the time visitors can visit tradeshow booths and have sales discussions remotely. It features real 3D photography that draws you in versus graphically created faux 3D virtual environments. And, like a real exhibition booth, it can be entirely exclusive for individual visits or, alternatively, a guided tour with dual controls for sales and marketing to use with an whole array of videos, 3D models and limitless support content. Linking in to Zuant Cloud provides provides users with full analytics about 3D space performance, and allows intelligent instant follow-up of sales leads generated via integrations with CRM and marketing automation systems. Each lead can provide a wealth of information beyond that of a live show: what's being looked at, dwell time and even details of conversations; all packaged up in an enhanced sales lead format. For more info, visit www.zuant.com.
For more info, visit www.zuant.com
TrackRhino (Booth #1140) makes it easy to share your digital content on show floors, at corporate events, or anywhere a rep may meet a prospect. The fully brandable, credit-card-shaped TrackRhino cards are embedded with USB and Near-Field Communication chips. Once recipients connect the cards to their laptops or tap them against their NFC-enabled smartphones, they're automatically brought to your company's customized file portal, where they can access PDFs, videos, lead forms and more. Marketers can add or delete files even after cards have been distributed, and a detailed analytics dashboard tracks such metrics as downloads, file views and geographic reach. For more info, visit www.trackrhino.com
ExhibitForce's custom METRICS feature within Event Suite (Booth #1007) gives exhibit and event marketers metrics to make informed decisions. Create templates for live events to measure total number of overall leads versus qualified leads and expected value per lead against total spend. Virtual engagements can be measured by click-thru rates, registrations, associated costs for sponsorships, brand awareness and total spend. For hybrid events, bring in data sets from both live events and virtual engagements to obtain the total view. For more info, visit www.exhibitforce.com
Oh, The Things You Can Do With Your Phone & Devices …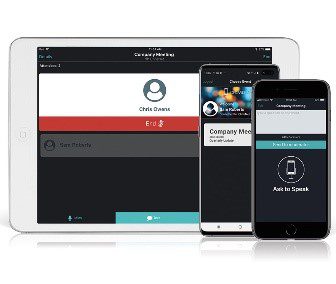 Biamp's Crowd Mic system (pictured left) (Booth #1442) turns attendees' smartphones into wireless microphones for audience questions at large presentations. With separate apps for participants and moderators and a two-pound Atom device which connects to a venue's AV system, this system handles up to 1,000 attendees, Audience members can text questions to the presenter or have their spoken questions broadcast on the room's speakers by talking into their smartphones. The administrative app alerts moderators when audience members have questions, allows them to choose the next person to speak, and enables them to turn off an attendee mic. For more info, visit www.biamp.com
ExhibitForce is featuring both Production Queues and AssetTracker by ef Enterprise in Booth #1007. AssetTracker is a cloud-based inventory-management tool that integrates directly with ef Enterprise to give users real-time data on their assets, containers and shipments regardless of whether the exhibitor uses a barcode system at all or even partially. Production Queues give exhibit houses, agencies, and other industry suppliers the ability to customize their processes and forecast their labor and machinery requirements. Shop personnel may be given access to a Production Queue Dashboard where they can filter orders by status, date, and more, plus access files, notes and all project details. For more info, visit www.exhibitforce.com
iCapture's latest lead-retrieval app, Athena 2020 (Booth #822), offers multiple levels of customization. Using a custom-built questionnaire with predefined answers and values, staffers can quickly and easily qualify prospects in the booth. Athena 2020 scores leads on a five-point star system that updates in real time as the questionnaire is being completed and immediately routes five-star leads to sales reps. Compatible with most iOS and Android devices, the app also offers a robust administrative dashboard for in-depth reports. For more info, visit www.icapture.com
Captello Lead Capture & Engagement software (Booths #942, 544) gives exhibitors full control over prospect engagement, gathering, qualifying, distributing and tracking tradeshow leads. The intuitive self-service platform, which is compatible with iOS, Android, Windows devices and web browsers, supports all methods of lead capture (e.g., NFC, barcodes, Quick-Response codes, business-card scans, manual entry, etc.). Quickly build custom lead-capture, lead-qualifying forms with instant export to virtually any third-party marketing platform. Captello has a  suite of 50+ user-customizable game templates and a flexible builder enables rapid customization of interactive games, QR codes and lead capture forms. There's an integrated e-Gift Card Rewards Center featuring over 250 brands, too. For more info, visit www.captello.com
Instead of following up on leads "later," Pixel Light Digital Media's DeliverMany (Booth #520), is an iPad- and cloud-based service that enables attendees to receive marketing and product info while still in the exhibit. Suitable for both self-service kiosks and as a staffer tool, DeliverMany allows users to select documents, videos, website links and other content and have it sent immediately to their mobile devices. DeliverMany also tracks which materials attendees actually view. For more info, visit  www.delivermany.com
Inventorypro (Booth #1263) is a cloud-based inventory-management system that provides simplified visibility, management, reservation and tracking of event items. This tool allows an exhibit company to enter critical information and details to manage reservations and logistics, and it also grants clients access to view and reserve their inventory. The software is fully customizable and enables admins to create custom fields and tags, as well as hide fields from the client view. In addition, the reservation tool lets users see when items are scheduled to be at events and when they will be available again. For more info, visit www.inventorypro.com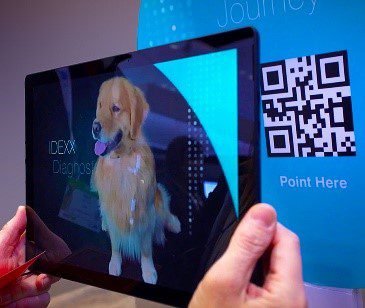 The tablet-based digi(tale) app (pictured right) from Live Marketing (Booth #312) is a turnkey platform for telling your brand story and demoing your products. Capable of being fully customized, digi(tale) is available in three tiers, each with unique features. Attendees can scan their badge or input their contact info and then explore "chapters" of content, which can include still graphics, text and images, videos, augmented-reality engagements, voiceover narrations and more. The ability to send instant follow-up e-mails and track usage metrics is included in every service package, while the app's top-tier service allows exhibitors to integrate attendee surveys. For more info, visit www.livemarketing.com
Circa's Meeting Scheduler (Booth #1208) is the latest tool in their marketing-orchestration platform and streamlines the scheduling of in-person meetings. The fully automated system integrates with Microsoft Outlook and Google Calendar to provide real-time updates, and event managers have the option of sending email or text reminders. Meeting Scheduler also has ROI reporting and two-way customer-relationship management integrations. For more info, visit www.circa.co
Portfolio from F2B Services (Booth #723) is a cloud-based storytelling platform that allows marketers to deliver memorable content from any device, e.g., smartphones, tablets, kiosks, touchscreen monitors, etc. Admins can create media-rich experiences that tell their brands' stories through text, video, photo galleries, virtual tours and more. The platform even tracks which content generates the most views and traffic for real-time insights into prospects' interests. For more info, visit www.beportfolio.com
Back to Real World Booths
Classic Exhibits' Symphony Portable Displays (Booth #324) blends tool-free assembly, lightweight aluminum construction and press-fit silicone-edge graphics, and offers distinctive mix-and-match frames and accessories that allow exhibitors to create countless in-line designs. Back-wall options include convex, concave, arch, half-arch, and rectangular shapes that can be repositioned for superior flexibility. Accessories range from display counters and monitor mounts to iPad clamshells and wired/wireless charging stations. All components are numbered and correspond to detailed assembly instructions and displays arrive packed in die-cut foam sheets and wheeled roto-molded cases. For more info, www.classicexhibits.com
CGS Premier's Architect Series Drop Trailer (Booth #759) is the only customizable outdoor structure of its kind, thanks to pre-engineered aluminum extrusions possibilities. Ideal for outdoor tradeshows, sponsorship events, pop-up activations and more, the structures can be assembled in one day, and floors can be leveled within 20 minutes. Custom and standard (20×20, 30×30 and 50×50') sizes are available; options include open-air or enclosed designs, full temperature controls, rooftop decks, glass or 3-D exterior panels, custom marquees and porch/deck extensions. For more info, visit www.cgspremier.com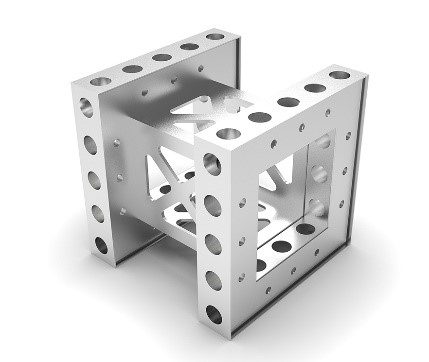 beMatrix USA's b310 beTruss System (pictured right) (Booth #901) combines the popularity of the company's b62 frame with the strength of a truss made from welded diagonal bracing. Fully compatible with existing b62 systems and capable of accepting silicone-edge graphic and hard-panel infills, b310 components support impressive weight. A 13-foot span can carry 177 pounds per foot, and a 39-foot length can handle 59 pounds per foot. For more info, visit www.bematrix.us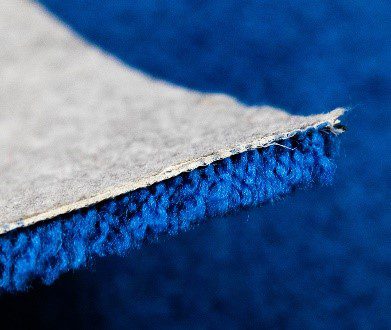 Dynamic Backing (pictured left) from Brumark (Booth #1013) is a urethane-based carpet backing, designed specifically for the tradeshow industry, that's 20 percent lighter than conventional latex backing to reduce shipping and drayage costs. The backing is flexible even in cold weather; requires less water and energy to manufacture; won't scratch baseboards, furniture and other interior finishes; and features antimicrobial properties that fight odor-causing bacteria, mold and mildew. Currently available on Brumark's 10′ Advantage XL carpet, Dynamic Backing will soon be added to additional product lines. For more info, visit www.brumark.com
ARES-X Raised Floor System from Toronto-based Exhibit Raised Floor Inc./Iana Creative Engineering (Booth #555) conveys permanence, professionalism and European flair. Wood tiles (available in 2-ft.-square, 2×4-ft., 4-ft.-square, and 1-meter-square dimensions) and plastic blocks act as both supporting feet and connecting nodes, and require no tools, hardware or skilled labor to install. The plastic nodes contain an innovative magnetic-locking system that secures the wood panels for installation and allows for self-leveling. Meanwhile, the plywood surface can be finished with carpeting, tile, veneer flooring and more. Accessories include perimeter transition thresholds for edging and ramps, as well as LED edge lighting systems. For more info, visit www.ares-3.com
Trussworks' EZ Table collection (Booth #741) is for F2F marketers whose  furnishings must exude a high-end aesthetic yet remain tradeshow friendly. From petite side tables to large conference room tables and everything in between, the line allows exhibitors to choose their own powder-coated frame and laminate tabletop colors at no added cost. A custom look at a stock price, sleek and sturdy EZ Tables can be quickly broken down to fit into standard rolling cases for easy shipping. For more info, visit www.trussworks.com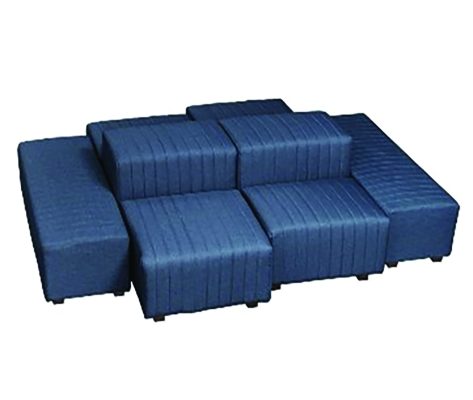 CORT Events' Beverly Oasis Groupings (Booth #401) are modular ottoman seating systems (pictured left) that can be arranged to suit a wide spectrum of spaces and uses. Available in small, medium, and large configurations, groupings comprise 18-inch-tall seats and taller backrest units, all of which can be finished in any of 11 colors of fabric and vinyl channel-stitched slipcovers. Exhibitors also have the freedom to personalize their slipcovers with custom graphics, logos, and more. Pieces are joined together with hidden strips of hook-and-loop fastener, and arrangements can easily be disassembled to create multiple seating solutions. For more info, visit www.cortevents.com
Combining strength, style and easy setup, the Rally Counter from Skyline Exhibits (Booths #1033, 1133) stands 38 inches tall and occupies a roughly 32.5-by-17.5-inch footprint. Wraparound graphics facilitate branding, and two internal shelves, which can support up to 50 pounds each, are secured behind locking doors. Perfect for a demo station, product-display stand or reception desk, the unit can be assembled without tools in less than one minute, and at 45 pounds shipping and drayage costs are minimized. For more info, visit www.skyline.com
The Nash Imaging Events' Shirt Lab (Booth #1043) is a turnkey giveaway service that allows attendees to design custom T-shirts and exhibitors to collect valuable lead info. After watching a video at a touchscreen station, attendees use a drag-and-drop design app to create their one-off garb using a preselected library of branded graphics. Once they enter their contact info, attendees receive video clips of their creations coming to life via SMS messages, and the designs are sent to a print station. An on-site rep supervises the direct-to-garment printing process, and attendees get their customized giveaways within a few minutes. For more info, visit www.nashimaging.com
Let There Be Light!
Aluvision Inc. (Booth #923) is debuting several new products including the Omni-55 LEDline, an illuminated decorative cover that fits on their original Omni-55 wall frames via mounting clips for tool-free assembly. Designed to add a touch of light to the side of any structure built with Omni-55 frames, LEDlines are available in warm white, cool while, and RGB models, meaning marketers can match the lit edges of their structures to the color of their graphics. The covers can also be mounted on the interior to create an eye-catching illuminated "window." Aluvision's Poly-124 Bright+ and Fab-186 Bright+ lightbox profiles are capable of forming single- and double-sided backlit structures limited to 16 feet in only one direction—meaning marketers can build lightboxes of whatever height or width they want. No other product on the market allows for edge-lit lightboxes without seams or shadows and with these size capabilities. Profiles can be assembled without tools, there's no need for complicated and cumbersome LED ladders inside the structure, and LEDs can be easily added to the profiles.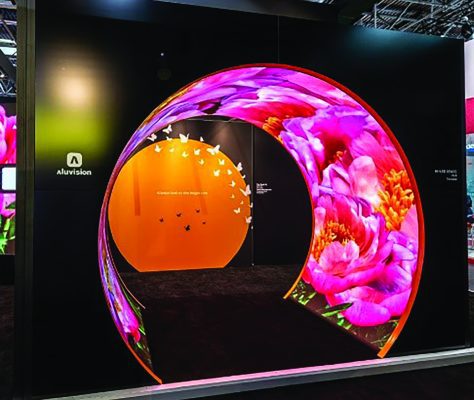 Aluvision's new Puck XL has a modern aesthetic and sleekness to spare. Measuring just over 2 ft. long and 3 inches wide, Puck XLs connect to Aluvision's Omni-55 frames without tools and boast an output of 4,000 lumens. (Units are compatible with other frame systems as well.) The lights can be daisy-chained, include a switch to alternate between emitting warm and cool illumination, and feature an integrated dimmer. Aluvision Inc.'s Hi-LED 55+ LED tiles have convertible aluminum cabinets, which make it possible to link tiles in multiple configurations to create 2-D and 3-D corners, cubes, and concave and convex walls. Magnetic connector pieces allow for tool-free assembly and seamless corners, while a pixel pitch of 2.5 or 2.8 mm ensures vivid image quality. Hi-LED 55+ tiles are compatible with myriad modular frame systems and feature a built-in slot for silicone-edge fabric to cover the back side. Hi-LED R5′ system-integrable LED tiles (pictured right) connect seamlessly to the original Aluvision Omni-55 frame system and feature a radius of 5 feet, which allows marketers to create immersive walkthrough tunnels or hanging signs with a 10-foot diameter. After all, curved is truly captivating. For more info, visit www.aluvision.com
Prism Lighting Group's Luxor120 LED Light Bars (Booth #845) enable exhibitors to backlight their single- or double-sided graphics with ease. Available in two sizes featuring six and three LEDs, respectively, Luxor120 Light Bars can illuminate lightboxes ranging from 3×3' to 12×12'. The units' LEDs are so efficient that only two sides of a lightbox need to be illuminated. Up to 55 running feet of Luxor120s can be quickly and easily daisy chained via Fast Connect linking cables that eliminate the need for wired connections. Durable white plastic housing maximizes reflectivity while minimizing the risk of electrical shocks, and units are powered through a 120-volt electrical cord, so there's no need for internal or external power supplies. For more info, visit www.prismlightinggroup.com
The Vector Frame Dynamic Light Box (Booth #1027) from Orbus Exhibit & Display Group has an LED light curtain, which can be programmed to complement any single-sided fabric graphic and make it come to life via flashes, fades and more. Exhibitors can choose one of Orbus' stock animations or opt for a custom light show. Orbus is also showing the Hype Digital Banner for exhibitors who have ever-changing promotional and messaging needs. Standing roughly 5 feet tall and 2 feet wide, the Hype banner features an LCD display and a sleek white exterior. An easy-to-use, DIY software interface allows users to upload new content at a moment's notice. After updating their messaging, users simply store their files on a thumb drive, which is then inserted into the display. For more info, visit www.orbus.com
Skyline Exhibits' Hardboard Backlighting Panels (Booth #1033) make it possible to erect brightly and uniformly lit structures up to 24 feet tall and of unlimited length with ease. These reflective rigid panels, which snap into standard modular frames, feature arrays of premounted LEDs with integrated wiring and power supplies for fast setups. Even illumination is maintained around large monitor mounts, floating shelves and cabinets, and other accessories to accomplish any design without compromising functionality. For more info, visit www.skyline.com
Makitso USA's Infinity DNA Pro Lightbox Displays (Booth #1313) provide the ultimate in high-def illuminated graphics. Patented Extended Silicone-Edge Graphic (eSEG) frame and fabric technology—coupled with ultra-bright LED components—result in consistent color and lighting that extend beyond the lightbox frame. This edge-to-edge illumination allows exhibitors to create continuous images spanning multiple frames with no unsightly dark spots. Available in three standard widths (37.4, 54, and 116 inches) and an upcoming range of counters and hanging signs. For more info, visit www.makitsodisplays.com
Lightweight and easy to assemble thanks to tool-free setup, integrated wiring and preinstalled LEDs, the Lucid Shell Lightbox System (Booth #327) from Birttani Display is a first-of-its-kind curved frame made from ABS and synthetic structured PVC plastics. Available in 3-, 5-, 8-, and 10-foot widths (custom sizes are also an option), Lucid Shell frames accept single- and double-sided silicone-edge graphics and can be used as freestanding elements or connected to other Lucid lightbox components at multiple angles. Accessories include literature bins, shelving and monitor-mounting kits, and packaging options are a secure padded bag or a premium hard case. For more info, visit www.birttani.com
TigerBrite, a portable lightbox from Tiger Presentations (Booth #725), features two patent-pending technologies: an innovative frame system with magnetic connectors and ladder-style LED lighting that boasts twice as many lights as similar displays. Available in sizes ranging from roughly 3×3 to 9.75×9.75 feet, TigerBrite units are remarkably lightweight. A 91×92-inch frame fits into a 35-x12x4-inch carrying bag and weighs only 35 pounds. Monitor mounts and shelving can be incorporated with ease, and the counter model can support weights of up to 250 pounds. For more info, visit  www.tigerpresentations.com
Optima's Illuminate Backlit Fabric (Booth #433) offers a new level of wrinkle resistance, so much so that it doesn't need to be rolled on a core for shipping and will quickly smooth itself out upon install. The durable Illuminate fabric also boasts the vivid colors of Optima's 4K print technology, is flame retardant and is soft to the touch. For more info, visit  www.optimagfx.com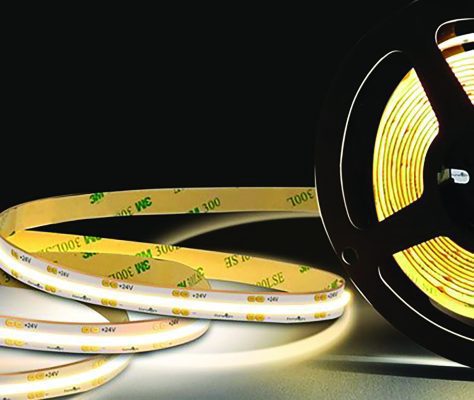 Step 1 Dezigns' (Booth #638) LED COB Flexible Tape Lights (pictured left) adds even, dot-free illumination to confined areas with a brightness of 500 lumens per linear foot. Powered by a 24-volt direct-current LED driver and available in 16-foot reels, LED COB Flexible Tape Lights can be cut at every 45 mm to fit myriad exhibit elements. Exhibitors have their choice of 2,700, 3,000, 4,000, or 6000K color temperatures, and 3M-brand adhesive backing makes installation a breeze. The tape is also fully dimmable when used with a dimmable LED driver. And let Step 1 Dezigns light up your exhibit, corporate event, or pop-up marketing endeavor with its Custom LED Neon Signs. Each order is individually crafted with high-quality LED Flex Neon strips that are safe, energy efficient and rated for indoor and outdoor applications. Marketers have 22 LED shades to choose from, and all production is handled by Step 1 Dezigns' expert craftspeople. For more info, visit www.step1dezigns.com
This story originally appeared in the Nov./Dec. 2021 issue of Exhibit City News, p. 30-35. For original layout, visit https://issuu.com/exhibitcitynews/docs/ecn_nov-dec_2021