Hill & Partners' team of branded environment specialists exhibited two decades of tradeshow production and professional design expertise at EXHIBITORLIVE 2015, held March 1-5 at the Mandalay Bay Convention Center in Las Vegas.
EXHIBITORLIVE is the top career opportunity for industry professionals featuring new products, technology and branding capabilities. The conference and exhibition consistently attracts qualified tradeshow and corporate event buyers, which gave Hill & Partners the opportunity to exhibit the Massachusetts-based company as one of the top professional design and tradeshow production companies in the industry.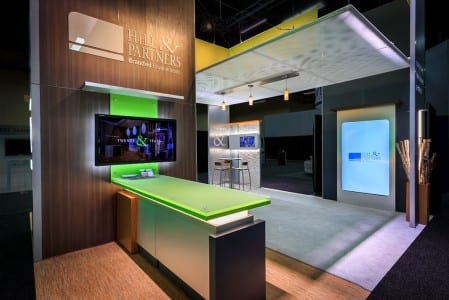 "This is the fifth consecutive year we have exhibited at EXHIBITORLIVE. The annual conference presents a valuable opportunity to us, as industry professionals, to brand an environment showcasing our own differentiating capabilities," said Michael McMahon, president, Hill & Partners. "2015 marks our 20th anniversary as a company and the amazing booth our team designed for EXHIBITORLIVE was a testament to what we create, how we create it and the people that have made it all possible."
At this year's EXHIBITORLIVE, Hill & Partners displayed a 20 x 20 island booth space consisting of a mixture of textures, materials, flooring options and integrated lighting and technology that created a unique Rental Branded Environment serving as a snapshot of its exhibit capabilities.
To maximize brand resonation with event guests, Hill & Partners strategically designed its exhibit with a spacious, open floor plan for traffic flow and one-on-one conversations to communicate the value of the company and its product offerings. Hill & Partners further increased guest engagement with a variety of touchscreen technology features.
In addition to its marked presence throughout the course of the exhibit portion of the conference, Hill & Partners sponsored the EXHIBITORLIVE Party, hosted by Exhibit City News and Willwork Inc. at the Light Nightclub at Mandalay Bay. Hill & Partners' primary goal throughout EXHIBITORLIVE was to continue its strong presence as a leader in the professional tradeshow and design industry, and to create meaningful relationships with industry peers and potential clients through face-to-face engagements.
For more information, visit hillpartners.com