Hill & Partners, Inc., a full-service team of branded environment professionals recognized internationally for its tradeshow exhibits and commercial installations, partnered with long-time client GTECH to bring the leading gaming technology and services company to G2E 2013, held Sept. 24-26 at the Sands Expo & Convention Center in Las Vegas.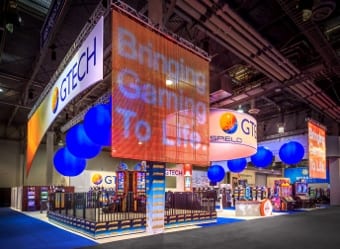 "What a pleasure it was to again have the opportunity to bring this leading, global company to the prestigious G2E," said Michael McMahon, president and CEO, Hill & Partners, Inc. "Our long-term relationship with SPIELO International, now known as GTECH, provides us the platform to consistently raise the bar of creativity; we are proud of our ability to unfailingly provide inventive and imaginative solutions to GTECH."
The team at Hill & Partners designed and managed a 80 x 90 double-deck custom branded environment that met the challenge of showcasing the launch of Sphinx 3D, the first title in GTECH's new True 3D product line under the SPIELO product brand.
Featuring seven meeting areas, high points of the sophisticated property included two 16-feet-high towers embedded with digital branded graphics and a pair of massive LED transparent curtains that fronted the branded environment. Striking arcs of glowing blue orbs flanked the fabric architecture that encased both sides of the property.
In response to GTECH's desire for a space where visitors could interact in a comfortable informal setting, the creative Hill & Partners team designed a social media lounge where refreshments were served throughout the run of the show. Brand strategy was further demonstrated by a branded blackjack table within the social media corner.