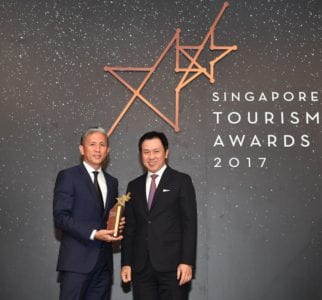 At right, Anthony Chong, Group Managing Director, Exhibitions & Thematic of Kingsmen Exhibits Pte Ltd, receives the exceptional achievement award
Thirty-one individuals and organizations were recognized recently at the Singapore Tourism Awards 2017 for their exceptional achievements in delivering experience and enterprise excellence. Organized by the Singapore Tourism Board and held at Shangri-La Hotel, the Singapore Tourism Awards presentation ceremony was graced by Minister S Iswaran, minister for trade and industry.
STB Chief Executive Mr. Lionel Yeo said, "The Singapore Tourism Awards aims to raise industry standards by showcasing the best of what Singapore has to offer. Past Awards recipients have served as inspiration for the tourism industry to reach new heights and I am pleased that this year's recipients have continued that fine tradition. Together, their contributions to the industry will also help enhance Singapore's appeal as a vibrant and compelling destination."
Six recipients for Top Awards and Special Recognition
Four individuals and two organizations were conferred top honors under the Top Awards and Special Recognition award categories.
Top Awards
Mrs. Janet Tan-Collis, president, Singapore Association of Convention and Exhibition Organizers and Suppliers received the highest accolade of the evening – Lifetime Achievement for Outstanding Contribution to Tourism. Mrs Tan-Collis' win was attributed to her unwavering commitment to developing talent and resources for the Meetings, Incentives, Conventions and Exhibitions (MICE) industry, working with MICE associations to develop education programs and further entrenching Singapore's position as Asia's centre for MICE thought leadership.
Breakthrough Contribution to Tourism was awarded to MICHELIN Guide Singapore, represented by Robert Parker Wine Advocate and Michelin Asia Pacific Pte Ltd. The organizations were recognized for bringing the Michelin Guide Singapore to fruition, and in turn contributing to the branding of Singapore as a compelling culinary destination, both regionally and globally.
Mr. Wee Teng Wen, managing partner ,and Mr. Daniel He, co-founder, from The Lo & Behold Group were recipients of the Outstanding Tourism Entrepreneur award. They were recognized for creating a successful lifestyle empire, with innovative concepts that have rejuvenated the F&B sector in Singapore. With creative dining concepts, the Group has helped to establish Singapore's reputation as a must-visit dining destination.
Special Recognition
Mr. Vincent Tan, Founder and Managing Director, Select Group was accorded the Special Recognition award for his outstanding contributions in enhancing the vibrancy of Chinatown through festival light-ups and island-wide innovative dining concepts.
Twenty-five recognized as the best in the tourism sector
Besides the Top Awards and Special Recognition recipients, 25 other individuals and organizations were honored for their exemplary delivery of experience and enterprise excellence across the three award categories of Customer Service, Experience Excellence and Enterprise Excellence.
In particular, Assoc. Prof Chan Yew Weng, chairman of World Congress of Anaesthesiologists 2024 Bid Committee and Mr. Erik Juul-Mortensen, president of Tax Free World Association (TFWA) were both recognized as Best Business Event Champion under the Experience Excellence (MICE) award category. They played principal roles in driving and securing Singapore's bid for the World Congress of Anaesthesiologists 2024 and the TFWA Asia Pacific Exhibition and Conference 2018 to 2022, respectively.
The Exceptional Achievement Award was awarded to Kingsmen Exhibits Pte Ltd, for receiving the Best Business Event Service Provider award for the past 3 consecutive years (2016, 2015, 2014).
Organized by the Singapore Tourism Board, the Singapore Tourism Awards brings together Singapore's tourism sector to celebrate individuals and organizations that best deliver exceptional experiences and achieve enterprise excellence. The Awards is an integral part of STB's efforts to raise the Singapore tourism sector's competitiveness by motivating organizations and individuals to create compelling experiences or adopt best practices. For more information, visit www.singaporetourismawards.com.
The Singapore Tourism Board (STB) is a leading economic development agency in tourism, one of Singapore's key service sectors. Working in close partnership with industry and community, STB aims to shape a dynamic tourism landscape and differentiate Singapore as a vibrant and inspiring destination through the "YourSingapore" brand. For more information, visit www.stb.gov.sg or www.visitsingapore.com.