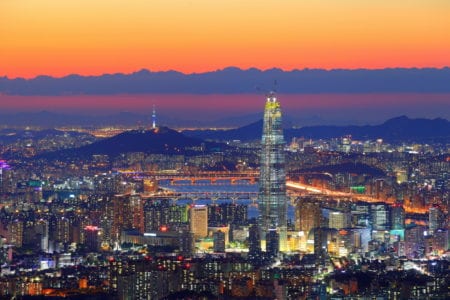 Korea now ranks in the #1 spot worldwide for global congresses hosted the previous year, according to the most recent International Meetings Statistics Report released by the Union of International Associations. The result is a reflection of strong growth by established Korean meeting cities such as Seoul, as well as rising destinations like Busan, Jeju, and Incheon, contributing to the country's increasingly diverse business events portfolio.
The findings show Korea as a country rising from 891 meetings in 2015 to 997 in 2016, reflecting an 11.89 percent increase over the previous year. Making up the national equation, Seoul, which maintained its 3rd-place city ranking, hosted 526 meetings in 2016, up from 494 in 2015 (up 4.97 percent), while now ranking in 14th place, the port city of Busan hosted 152 meetings in 2016 (increase of 1.33 percent) and Jeju, which increased its ranking from 19th to 17th place, held 116 meetings in 2016 – four more than 2015, reflecting an increase of 3.57 percent.
"The UIA's latest findings are a strong reflection of Korea's broad growth not only across the country's meetings section, but across the country itself," said Korea MICE Bureau Executive Director Kapsoo Kim. "Established event destinations like Seoul are continuing to show their prowess, while an increasing number of regional capitals are giving global meetings planners an increasing variety of options, and so boosting Korea's appeal for congresses" he added.
Nationwide infrastructure growth continues to bolster Korea's industry competitiveness, including new facilities such as the Paradise City integrated resort next to Incheon International Airport (itself due to open a second passenger terminal later in the year) and expansions to existing facilities such as Songdo ConvensiA, which are expected to finish in 2018. South Korea's tallest building, the new 555m-tall Lotte World Tower, recently opened in Seoul; the tower is also home to the luxury-brand 235-guestroom Signiel Hotel. A raft of new boutique hotels are also opening up across Korea, boosting budget accommodation options for business visitors.
Meanwhile, operational services are growing in new regional hotspots, such as convention bureau established for Cheongsong in Gyeongsangbuk-do Province, and establishment of the Gangwon Convention Bureau in response to the PyeongChang 2018 Winter Olympics, set to take place from February 9-25 next year. Event planners have also been able to enjoy an expanded range of services and support for locally-hosted events from the Korea MICE Bureau, the nation's officially government-sponsored agency for business events. For more information, contact the address below.
The Korea MICE Bureau of the Korea Tourism Organization, aims to establish Korea as a premier destination for convention delegates and business travelers. As the government's leading MICE Agency, the KMB has worked for nearly 40 years to provide a wide range of advice and assistance to those considering holding meetings in Korea. It also works closely with organizers, meeting planners, and other regional convention bureaus to ensure that every meeting held in Korea is successful as well as memorable. For more info, please visit www.koreaconvention.org.